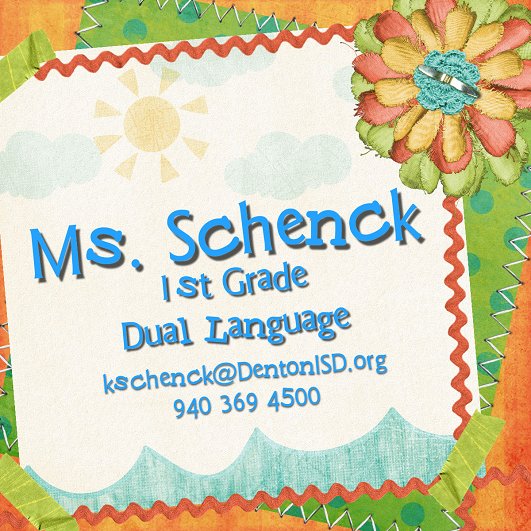 Phone: 940-369-4554
Email:
Degrees and Certifications:
Ms.

Schenck

Hello and welcome to an adventure!!

It is a true honor to serve on the Wilson Team!

Put me in the game Coach!!

I have wanted to be a teacher since I taught class in the fourth grade. You see, I am a differential learner, meaning... I have dyslexia. I was told in my upper elementary years that I would have to learn the way my brain works. As a result, mentor teachers and my family began to think outside the box to find inventive ways to retain information and comprehention in reading.

My greatest memory of this out of box thinking to making learning fun and purposeful was when the assignment required the memorization of the states and capitals. To accomplish this feat, we (my intervention teacher, my mother, and myself) created songs and rhymes to learn what seemed the endless list of the 50 states.

When in class, I shared my new found techniques. Soon, I was in front of the class teaching, sharing ways that made comprehinsion doable to my complex brain, and in turn, it helped others in their quest to complete the task. It was then that I found the reward of teaching. I thank those who did not give up on me on my journey, but searched out avenues to reach the child who seemed to be at a dead end. May we all give that opportunity to the kids in our lives.

Since that life changing day, I have found many ways to teach. I have served the kids at Lee (1999-2003) in the grand adventure that is third grade. Then I am also blessed with two children of my very own, and for the five years of their childhood, I have treasured being a catalyst in molding them at home, but mostly learning from them. They have shared lessons of humbleness, the ability to find fun in the smallest joys, and including to take each moment as a gift.

The teaching experience has allowed opportunities to coach at the High School level in JV softball for two years, with kids in youth groups and working on mission trips with Habitat for Humanity, and even going to MDA (muscular dystrophy) camp!!

I look forward to the daily challenge and reward of working with kids. They are simple and true. First graders are ready to learn and explore the world around them. I am again honored to work with your child in my tenth year at Wilson!

In Dual Language, I will support and encourage each child to become critical thinkers and problem solvers as they conquer their second language!

May we treasure every minute of the journey, making memories and lifelong learners.

Find a smile in all you do!!!
Last Modified on November 30, 2017