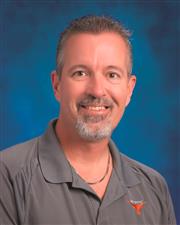 Phone: 940-369-1727
Email:
Degrees and Certifications:
Greg Meshell
---
8th GRADE MATH
Welcome to my website! I must say that I love my job here at Harpool Middle School. I stay very busy with all my duties which includes everything from teaching standard 8th grade mathematics to coaching the 8th grade girls volleyball, basketball, and track teams, & also as an Adjunct Professor at NCTC in Corinth.
Throughout the year, we will be reviewing past mathematical skills, as well as, studying everything from algebraic skills that will be used in high school to logical thinking skills. In my classes, students will always feel confident enough to discuss things without ridicule from other students. I promote an open environment that is conducive to learning, as long as the subjects being discussed relate to the subject at hand. In many discussions, we try to relate everyday life into the problems to make math real to them.
Later in the year, usually following the STAAR exam, all of my classes will be designing a mathematical masterpiece which they will start by designing on paper and eventually begin building. It is a rather unique project that the kids really enjoy. It practices lots of mathematical skills and really reinforces the material while at the same time producing an interesting work of art. I look forward to a great year with lots of success.
---
Tutoring/Advisory Schedule
Advisory:
Mon---Advisory Lesson/Tutorials
Tues---Tutorial Day/ Test corrections
Wed---Reassessment Day/Makeup Testing Day
Thurs--- Tutorial Day/ Test corrections
Fri--- Tutorial Day/Test Corrections
Before School:
Thurs--- Reassessment Day/Makeup test day
Fri---Reassessment Day/Makeup test day
Conference Period: Monday-Friday 12:15-1:02pm
---