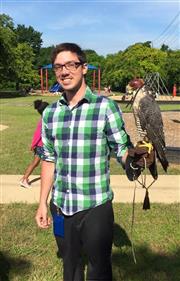 Phone: 940-369-3614
Email:
Degrees and Certifications:
TWU Bachelors of Science in Education, ESL
Mr.

Jason Fincher

Hello! I'm Mr. Fincher, and this is my fourth year as a kindergarten teacher here at McNair Elementary. I am looking forward to working with your kids this year!

I am a life long Dentonite. I went to grade school here, then attended UNT and graduated from TWU with a bachelors in Elementary Education. I am married to another elementary school teacher here in Denton, and we have a five year old girl (just starting kinder this year) and 1.5 year old boy.

In my time both in and out of the classroom, music is an important part of my day. I love all types of music, and use it quite a bit in the classroom. I have played several instruments over the years, including guitar (my primary instrument these days) for about 18 years, and now build guitars when I can find the time. I use this aspect of my life in my teaching. My students love the musical aspects of my lessons, and often make a more meaningful connection to the content through it's use.

In addition to music, I make use of movement and play in my classroom. Learning through doing is often much more impactful than simply listening to instructions. Having hands on a project makes the subject being taught more meaningful. I use class pets, and classroom jobs to help develop a sense of responsibility. This is especially important in younger grade levels in which students often do not have many other responsibilities.

I look forward to meeting all of my new students and having a great year with them!
Last Modified on January 23, 2018