Welcome to Varsity Softball and English III with Coach Stephenson!

Where you can contact me:

mstephenson@dentonisd.org

My preferred method of contact is email. If you would like for me to call you, please state that in an email with what time would be best to contact you.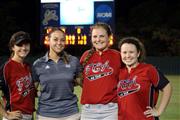 Phone: 940-369-2199
Email:
Degrees and Certifications:
Bachelor's of Science in Special Education - Brigham Young University (2010) Master's of Sports Administration (in progress) - Ohio University
Coach Stephenson

Hello!

I look forward to a wonderful 2017-2018 school year! I am originally from Pickerington, Ohio. I graduated from Brigham Young University where I received a Bachelor's of Science degree in Special Education and was a member of the softball program. I firmly believe that relationships define who we are and what we become. With this sole belief, I made the decision to pursue a career in education and coaching 6 years ago. It is my hope that one day the students, professionals, and friends that I have supported and influenced can look back and trace their successes to our relationship, or a personal strength that I helped them identify and develop.

Throughout my life I have been blessed with a number of valuable experiences that have shaped the professional that I have become and the passions that drive me:

- Head Softball Coach at Denton High School

- Academic Coach for student-athletes at UNT

- Support Coordinator for at-risk students at the College of Charleston

- Head Softball Coach at Robert E. Lee HS in Tyler, TX

- Academic Mentor and Tutor for at-risk student-athletes at The Ohio State University

- NCAA Division I softball player at Brigham Young University

At Denton High, I teach English III. In my spare time, I love to watch football, play tennis, attend sporting events, and hang out with my friends and family. I am also currently working on my Master's of Sports Administration degree from Ohio University's College of Business.
Last Modified on September 14, 2017