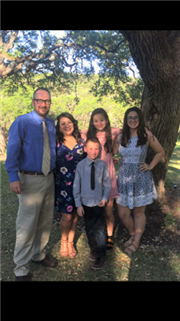 Phone: 940-369-4547
Email:
Degrees and Certifications:
Masters degree in Speech and Language Pathology
Mrs.

Regina Baggett M.S. CCC-SLP

Hello!

I am the Speech and Language Pathologist here at Wilson. This is my fourth year here at Wilson, but I have been a parent here for many years. My 21 year-old and my 15 year-old are both former mustangs, so I am very proud and honored to serve students at this wonderful school. My husband has been teaching in the district for 19 years, he is the Varsity tennis coach for Braswell. He's also a fabulous English teacher. I have worked in many different settings, but I absolutely love working with children! Some of my hobbies are traveling, reading, attending concerts, crafting, and spending time with my sweet family. I am a serious lover of cats, the Dallas Mavericks (especially Dirk!), and music is something I could not live without:) The best advice I have for the parents of the students that I serve is PRACTICE, PRACTICE, PRACTICE!!! Practicing those target sounds for even 5 minutes a day makes a tremendous difference in your child's progress. The repeated review allows that skill to generalize much faster. Some ideas for quick practice at home:

-having your student say his/her practice words in the car while you're driving. If you don't have a list, you can just make the words up!

-When reading with your child, tell them you will listen to for their target sound for one page or one paragraph. Listening and correcting them for an entire book may be too overwhelming for you and your child.

-Throw or kick a ball back and fourth, saying a target word each time.

-Have your child say his target words while you are cooking dinner. That's a great way to knock 2 things out at once!