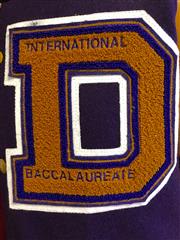 Frequently Asked Questions
What is the difference between and IB Full-Diploma (DP) candidate and and IB course only student?

An IB Full-DP candidate is enrolled in the full IB program consisting of 3 higher level courses, 3 standard level courses (from IB Groups 1-6) and the Theory of Knowledge (ToK)/Research class. This student is striving to score 24 or more on the combined assessments to earn the IB Diploma in addition to their Texas high school diploma. Students who complete all requirements as full-DP candidates in good standing will sit at the front of their class at graduation and proudly wear their IB stoles.

An IB course only student in enrolled in personally selected IB courses and are not enrolled in ToK. The student will get a certificate score report for the each IB class, but are not eligible to earn the IB Diploma.

What does one accomplish in earning the IB Diploma?

Resiliency, pride, knowledge and skills that certainly rank you among the best in the world. Many public universities as well as a few private universities award college credit for passing IB scores.

Can an IB exam be taken without having taken the IB course at Denton High School?

No. Part of the student's final IB score comes from work done in the classroom and is sent off to the IB for scoring.

What kind of scholarships does IB give to students?

IB awards no scholarships. Completion of the IB curriculum, however, makes students attractive to those who offer scholarships. Please remember that students must actively seek scholarship opportunities and apply for them AFTER they have been admitted to a university.

5. Who pays for Denton High School IB assessments?

Denton High School currently pays for IB assessments for all Diploma candidates and course only students. By enrolling in any IB DP course, students are accepting the responsibility to complete all internally and externally assessed components on time. Failure to complete all assessments on time will result in a testing fee fine passed along to the student. Currently the cost is $260 for the first exam and $115 for each exam thereafter. The IB requires a registration fee that makes the first exam more expensive.

6. Where have Denton High School's graduates attended college?

Please view our banquet programs from previous years to see where our graduates enrolled after Denton High School. Denton High School full-diploma candidates have been accepted to Cambridge (UK), Harvard, Princeton, Columbia, Dartmouth, Cornell, Yale, UPenn, Stanford, NYU, Georgetown, Haveford, Emory, Notre Dame, DePaul, The University of Michigan, The University of Texas and many, many more.

7. Can you letter in IB? Who pays for the letter jacket?

Please view our letter jacket point sheet here: letter jacket. DHS pays for a basic jacket for eligible, full-diploma students.