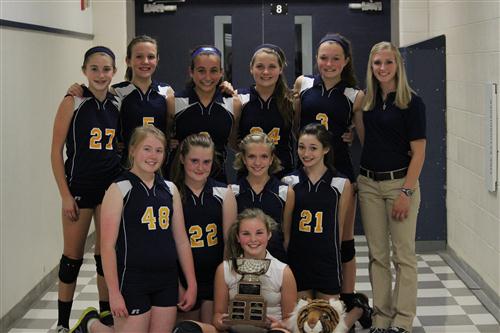 'A' Team Wins
District Championship
Last night, November 1st, the 7
th
Grade McMath Lady Tigers played their final match of the season against the Crownover Lady Cowboys in a fight for the District Championship. The Lady Tigers took a clean sweep, with all 3 teams winning in 2 sets!
The C team won 25-20 and 25-13, finishing the season with a 3-6 record. C team standouts were Tressa Hall and Peyton Overton.
The B team won 25-19 and 25-9, finishing the season with a winning record of 6-3. B team standouts were Abby Poston, Alex Palesano and Tatyana Jones.
The A team topped off an
outstanding
season last night, defeating the Lady Cowboys for the second time, 25-20 and 25-11 to win the District Championship!!! The A team accomplished a truly undefeated season, never dropping a set, to achieve a 9-0 record in district and a 14-0 overall record.
The A team consists of Miles Baker, Kate Cowan, Lucy Martin, Sydnie Acker, Holly Higgs, Stephanie Williamson, Alyssa Williamson, Kendall Rivers, McKenzie Sprabary and Makenzi Beavers. Please congratulate these young ladies!!!
Special thanks to Dr. Nobles for her support throughout the volleyball season, to Tim Huynh, Jake Arnold and Steven Babcock for bringing the noise with the drums J, to my ladies working the games: Katie, Robin, Christina, Bobbie, Martha and Whitles, to all of the parents, teachers and staff who have come out to support us this season, and of course to my coaches for all they do for our young ladies, on and off the court: Erika Simon, Kim Truelove, Joe Parker and Kelley Currin! Our season would not have been a success without you all! Thank you!!!
Lacey Hudson
Girls Athletic Coordinator
Congratulations 7th Grade A Team Volleyball for winning the Bronco Bash Tournament on Saturday, Sept. 22nd!!!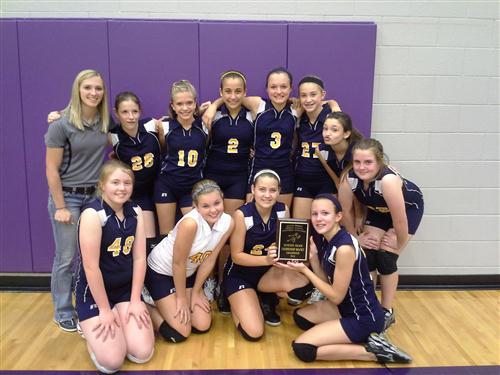 Bottom Row (L to R):
Alyssa Williamson, Kendall Rivers, Holly Higgs, Miles Baker
Top Row (L to R):
Coach Hudson, Abby Poston, Makenzi Beavers, Sydnie Acker, Kate Cowan, Lucy Martin, McKenzie Sprabary, Stephanie Williamson
7th and 8th Grade Volleyball tryouts begin the 2nd day of school, Tuesday, August 28th. Please see the practice schedule tab on the left for tryout times.
---
Congratulations to the 8th Grade A Team on winning Back-to-Back District Championships!!!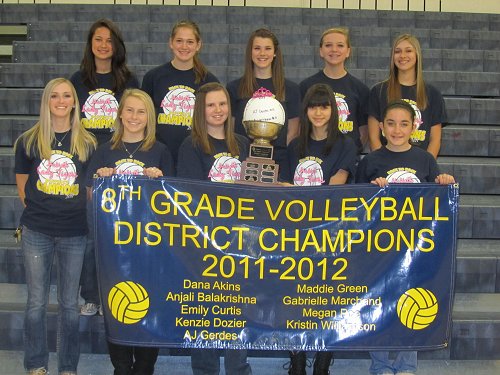 Bottow Row (left to right): Coach Hudson, Gabrielle Marchand, Kristin Williamson, Anjali Balakrishna, and AJ Gerdes.
Top Row (left to right): Megan Poe, Kenzie Dozier, Emily Curtis, Maddie Green, and Dana Akins