E-Mail - Outlook Web Access (OWA)
---
When accessing Outlook Web Access (OWA), enter your email address and your network password. Click Sign In. Note: Some functions of OWA may not be available with browsers other than Internet Explorer 7 and above.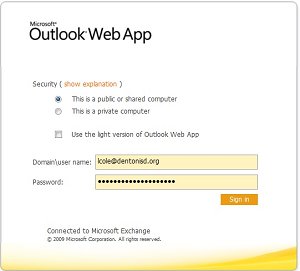 Security explanation
"This is a public or shared computer"
"This is a private computer"
IMPORTANT! Passwords must be 8 characters in length and contain three of the four criteria; upper case, lower case, numbers and/or special characters. (ex. Winter10, Broncos!)
In OWA, click Options in the upper right hand corner of the screen.
Click Change Password in the column on the right.
Enter your current password in the Old Password field and enter your new password in the New and Confirm password fields.
Click Save.