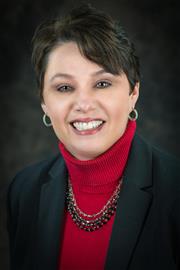 Beth Kelly, principal of Fred Moore High School, has been named the new principal at Navo Middle School. She replaces Mario Layne, who has resigned for personal reasons, effective at the end of the current school year.
"The community of Navo Middle School reflects great diversity and growth, and I'm eager to become a part of that dynamic," Mrs. Kelly said. "By partnering with the leadership of Braswell High School and our other feeder schools, I look forward to creating an environment where our students can be successful."
Mrs. Kelly will begin working with the Navo administration team and staff to implement a smooth transition. She will continue in her role as Fred Moore High principal until her successor is named.
Mrs. Kelly assumed the principalship at Fred Moore High in 2012 and increased the number of students enrolled, helping students' achievement on standardized testing and decreasing the school's and district's student dropout rate. She also led the implementation of an online curriculum on campus and during the district's summer school program.
"Mrs. Kelly is a forward-thinking leader who brings a vast amount of experience in working with students from various backgrounds, environments and skill sets," said Mrs. Gwen Perkins, area superintendent of academic programs. "She understands the unique and challenging needs of a growing community and is a strong relationship builder, which will help her become an asset to the Braswell attendance zone."
Prior to joining the district, Mrs. Kelly served as the associate principal at Legends Academy and for Northwest High School in Northwest ISD. She began her career as an English teacher in Monroe, La., and Carrollton-Farmers Branch ISD before joining the district as a teacher and English department chair at Guyer High School and being promoted to assistant principal.
Mrs. Kelly earned her bachelor's degree from the University of Louisiana at Monroe and her master's degree in administration from Texas Woman's University. She is currently working on a doctoral degree in educational leadership from the University of North Texas.