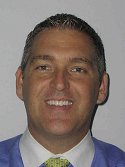 Carrollton-Farmers Branch administrator named DHS principal The Board of Trustees has hired veteran administrator Daniel Ford as the new principal for Denton High School. He is replacing Darrell Muncy who was named director of student services in November.
Mr. Ford, who has been an educator for 15 years, was selected from more than 100 applicants who applied for the Denton High position.
"We had one of the strongest candidate pools for this position that I can recall. Mr. Ford was at the top of this list," Superintendent Ray Braswell said.
Mr. Ford currently is principal of Vivian Field Middle School in the Carrollton-Farmers Branch School District, a position he's had for the past six years.
His current school has 82 percent economically-disadvantaged students and 13 percent from an area country club neighborhood. Under his leadership, the school received Recognized status from the Texas Education Agency in 2006, 2007, 2009 and 2010. He also implemented the Coaching for Results program and research-based Best Practices.
As a top administrator, he is known in the Carrollton-Farmers Branch area for helping to bridge the gap between the community and school "by uniting all the stakeholders together to maximize student achievement." He has also helped worked through the political tensions that revolved around illegal immigration in Farmers Branch.
As the instructional leader of his secondary school, he was recognized for providing quality staff development on a weekly basis.
He was the assistant principal at Newman Smith High School from 2004-2006, where he developed a parent education program to teach parents the algebra curriculum - along with their students. Mr. Ford also was a math teacher at Dan Long Middle School from 2001-2004 where he received the VIP award.
Mr. Ford currently is working on his doctoral degree at UNT and received his master's in administration and MBA from TWU. He received his bachelor's in business administration from Southwestern A/G University. He has also been a retail business owner.
The district has not established an exact time when Mr. Ford will take over the principalship at DHS. "We are working on a transition plan with Carrollton-Farmers Branch to develop an appropriate time table," Dr. Braswell said.