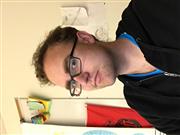 Phone:
Email:
Degrees and Certifications:
Mr.

John Sinor

Hello, I am John Sinor and I am one of the Coaches at BMMS for the GOAL Team. To me GOAL is an organization dedicated toward helping improve the academic and moral character of our student population. We, and by we I mean Family, School and Community, strive to engage our charges through a competitive soccer program while simultaneously mentoring them to become our communities future leaders. It is my privilege to do so, and my hope that together we can make real impact and positive change in our community and society.

Hola, soy John Sinor y soy uno de los entrenadores de BMMS para el equipo GOAL. GOAL es una organización dedicada a ayudar a mejorar el carácter académico y moral de nuestra población estudiantil. Nosotros, y por nosotros me refiero a la Familia, la Escuela y la Comunidad, nos esforzamos para participar de nuestros cargos a través de un programa de fútbol competitivo, mientras que al mismo tiempo mentoría para convertirse en nuestras futuras comunidades líderes. Tengo el privilegio de hacerlo y espero que juntos podamos hacer un verdadero impacto y un cambio positivo en nuestra comunidad y en la sociedad.