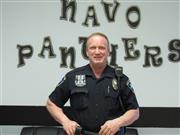 Phone: 972-347-7518
Email:
Degrees and Certifications:
Law Enforcement and Security professional
Mr.

Robert McKissick

Welcome To Navo Middle School

I am Officer McKissick, and I am a highly trained, Law Enforcement and Security professional with over 15 years experience in the Law Enforcement and Security Fields. I have been responsible for providing on the job training to many law enforcement personnel on a variety of topics. I have worked in conjunction with DOD, Secret Service, Scotland Yard and other Agencies, foreign and domestic, while providing security for numerous VIP's including, high profile diplomats, foreign dignitaries, heads of state, government officials, celebrities, and musicians.

Other skills include: TCOLE Master Peace Officer, TCOLE Instructor, Firearms Instructor, Hostage and, crisis Intervention response training , Incident Response to Terrorist Bombing Instructor, Field Training Officer, Investigative Experience, Certified in REID Interview and Interrogation techniques, Trained in Active Shooter Interdiction, Incident Response and Command training, trained in Patrol Tactics and EVOC, Certified Glock Armorer, trained in the use of Biometrics , Also trained in Urban Warfare CQB, Small Unit movement and operations, Night operations and Infiltration, TCCC First Aid Training, EMT Trained.