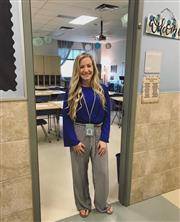 Welcome to Ms. Hunter's Third Grade page!

I have my Masters in Elementary Education from the University of Arkansas. I graduated in 2017. With my masters, I also recieved an endorsement in STEM. Teaching is my passion, and I am so very excited to be a part of the Blanton Team!

You can find more information on my Google Site here!