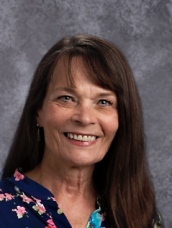 Phone: 940-369-4537
Email:
Degrees and Certifications:
Ms.

Cheryl Kruger

About our class: We do inclusion here at Wilson based upon what is best for each child. We usually work on our academics in our classroom. The Special Education Department wants us to follow the TEACCH model, which is a very visual structured program. I had the advanced training in it.

Studies show that parental involvement in a child's education is one of the strongest indicators of student achievement. It would be great if you would engage your child in conversation about his/her day. We usually send a folder/binder home each day- the Daily Take Home folder. It will let you know of your child's behavior for the day and what you child is doing in class. We will also send homework in a separate envelope- we try to make it as fun as possible. This is also another opportunity for us to communicate. You could let us know any special happenings in your life. I know that together we can work together to help your child succeed. To be the very best that he/she can be. Please return the folder each day so that we can let you know what's happening!

The Monday folder will have things from the school such as flyers and notices from the office. As daunting as it may be, try to sort through them, and read each one. They often contain important information and reminders. Your child should bring the empty folder back to school the next day- signed.

Verify an absence: A written excuse needs to be sent the next day (up to 48 hours after) anytime a child is absent. After 3 unverified absences the assistant principal is notified. After 5 the courts can get involved.

In addition to report cards and conference, I am always available to meet or speak with you.

We use CHAMPS for behaviorial expectations at Wilson.

There is a common language for Voice levels:

0 is no talking

1 is a whisper voice

2 is a quiet voice

3 is a presentational voice or teacher voice

You might want to send a jacket to school. Sometimes our classroom is cold and other times it can be warm.

If you need to contact me with questions, comments, or suggestions please feel free to let me call. I try to check email at least twice a day.