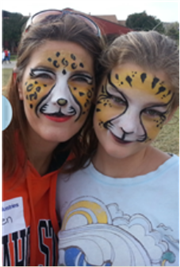 Phone: 940-369-2033
Email:
Degrees and Certifications:
Degree: Biology with a minor in Chemistry at TWU Certification: 7-12 Composite Science
Mrs.

Crockett

If you are enrolled in Crockett Pre AP Physics for 2018-19, please text PAPif1819 to 81010 so that you will get class updates via Remind throughout the year.

Here is the link to my google site which has summer homework if you are in AP Physics 1. Pre AP Physics has no homework. The link on the website below (just for me) isn't showing the updated version of MY site. Mrs. Thaggard is trying to fix it.

https://sites.google.com/g.dentonisd.org/crockett/home

Here is the link for all summer assignments if you need it:

https://www.dentonisd.org/site/default.aspx?PageType=3&DomainID=293&ModuleInstanceID=15929&ViewID=047E6BE3-6D87-4130-8424-D8E4E9ED6C2A&RenderLoc=0&FlexDataID=107502&PageID=3054

About Me:

I have taught Physics I, Pre AP Physics, and AP Physics I for 20+ years. I love teaching physics because it is like working out riddles or solving puzzles. To me, physics is fun. I hope that you grow to love physics as well.

Conference Time:

Monday-Friday 8:50-9:45 AM

Tutorials:

Tuesdays and Thursdays after school (4:15 to 4:45)

Wednesdays before school (8:20 to 8:45)

If tutorials have to be amended, a notice will be sent out via Remind.

Remind for AP Level Physics:

Students and parents are highly encouraged to sign up for Remind in order to get important alerts/reminders pertaining to this class. If you are AP level, you should sign up for the "all AP Physics class" and the individual class you are enrolled in. To sign up for All AP Physics, please text @pif1718 to 81010. To sign up for an individual class, please text @pif(insert class period) to 81010. For example, A2 students should text @pifA2 to 81010. Parents are welcome to sign up for both of these as well.

Remind for On Level Physics:

To sign up for on level Physics I, please text @pif5th to 81010.

Students also need to sign up for their appropriate class on google classroom:

Code for AP Physics 2017-18: edbc21k

Code for On Level Physics 2017-18: edbc21k

When a student is absent, he should always refer to google classroom to find out what was missed.
Last Modified on June 28, 2018