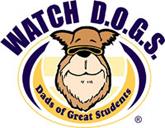 Watch D.O.G.S. (Dads of Great Students) Watch D.O.G.S. gets fathers involved in volunteering at the school. Fathers volunteer one day to help monitor our school and keep our students' safety as top priority. They will help at arrival, dismissal, lunch, recess, specials, and in their child's classroom. They will also have a window in their schedule to volunteer in any capacity (workroom/office/mentor). The dad will be identified by their "Watch D.O.G.S." lanyard!

Interested in the Hawk Elementary Watch D.O.G.S. program?

WATCH D.O.G.S. is a one-of-a-kind, school-based father involvement program that works to support education and safety

For More Information:

Contact: Dennis Stewart

Please fill out and submit these forms to the office prior to volunteering:

Schedule

Click

here to view available days.