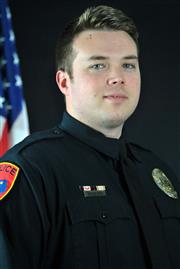 Phone: 940-369-3304
Email:
Degrees and Certifications:
Officer Derek Bradford
---
As the School Resource Officer at McMath, my first priority is ensuring the safety of all our students. Undoubtedly there are many other aspects to my role as the SRO. One of my personal goals is to build a relationship with students so they know that a police officer is not just someone who shows up when you've done something wrong, but that an officer is someone you can always go to when you need help. I've found that these relationships have me interacting with students mainly on a positive level. Basically, I want students, parents, and staff to know that I am always available to assist them; if I am unable to personally, I will find you the right resource to help with your problem.
If you should have any questions, please feel free to contact me at anytime.
Officer Bradford #281




School Resource Officer




McMath Middle School




City of Denton Police Department




940.369.3304


derek.bradford@cityofdenton.com
 
Following is a list of a few resources that may be of assistance to you or your child:
Denton County Impact Program 




(Similar to the "Scared Straight program) 




Contact Deputy Charley Smith 




(940) 349-1651

 
Denton Police Department 




Family Services Coordinator: 




(Provides resources such as family counseling) 




Richard Godoy 




(940) 349-7909

 
Child Abuse Reports
800-252-5400
Answers 24 hours / 7 days a week
Denton County Hotline for Suicide and other Mental Health Crisis Intervention
940-387-5555
800-762-0157
Last Modified on November 14, 2018