Return to Headlines
High schools celebrate 31 student-athletes signing letters of intent
Denton Independent School District's three comprehensive high schools each celebrated student-athletes moving on to the next competitive level recently, with 31 district students signing national letters of intent to compete collegiately.
Denton, Guyer and Ryan high schools each held ceremonies to honor their student-athletes on Wednesday, Feb. 3, when National Signing Day – the first day high school seniors can enter into written agreements to play collegiately – took place for several sports. While some sports had signing days on earlier dates, many still took part in collective school celebrations to honor their accomplishments.
The following Denton ISD student-athletes took part in National Signing Day festivities on Feb. 3.
Denton High School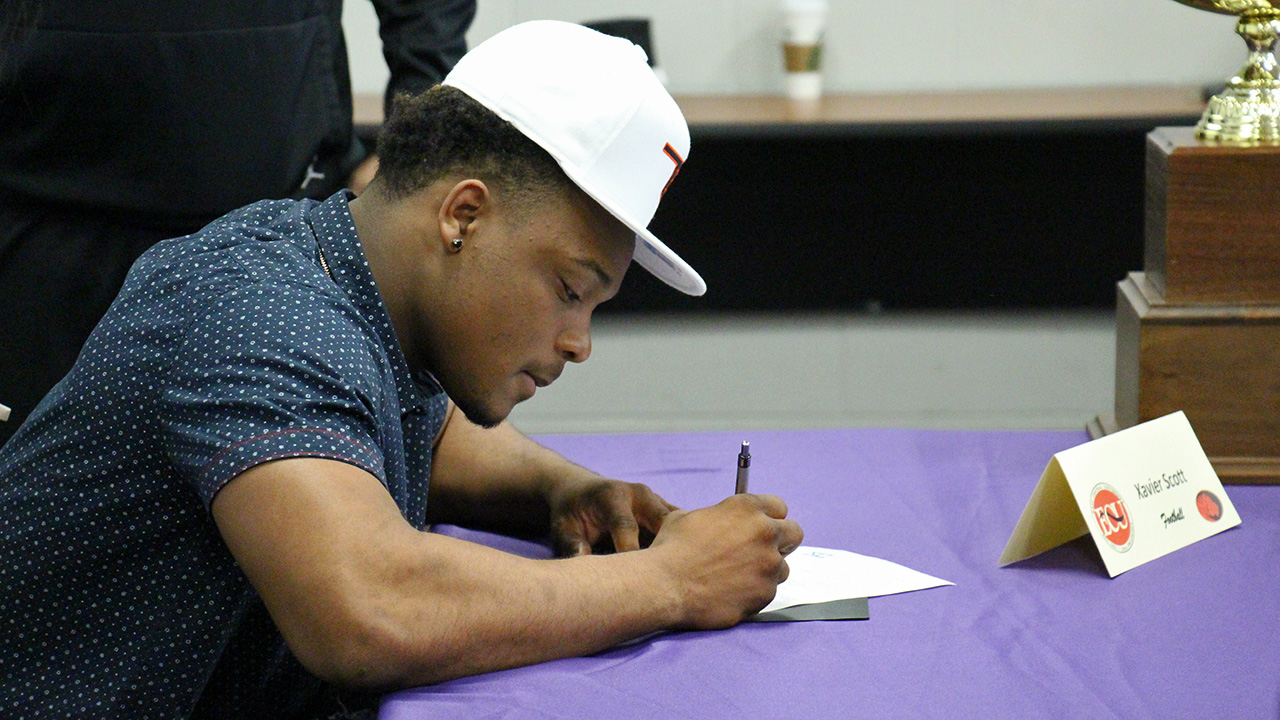 Denton Bronco running back Xavier Scott signs his letter of intent to play football at East Central University.
Baseball
Josh Boring – Austin College
Football
Brenton Broadbent – McPherson College
Emerson Espinoza – East Central University
Xavier Scott – East Central University
Softball
Courtnie Walker – University of the Ozarks
Volleyball
Emily Curtis – Clemson
Kenzie Dozier – Arkansas Tech
Guyer High School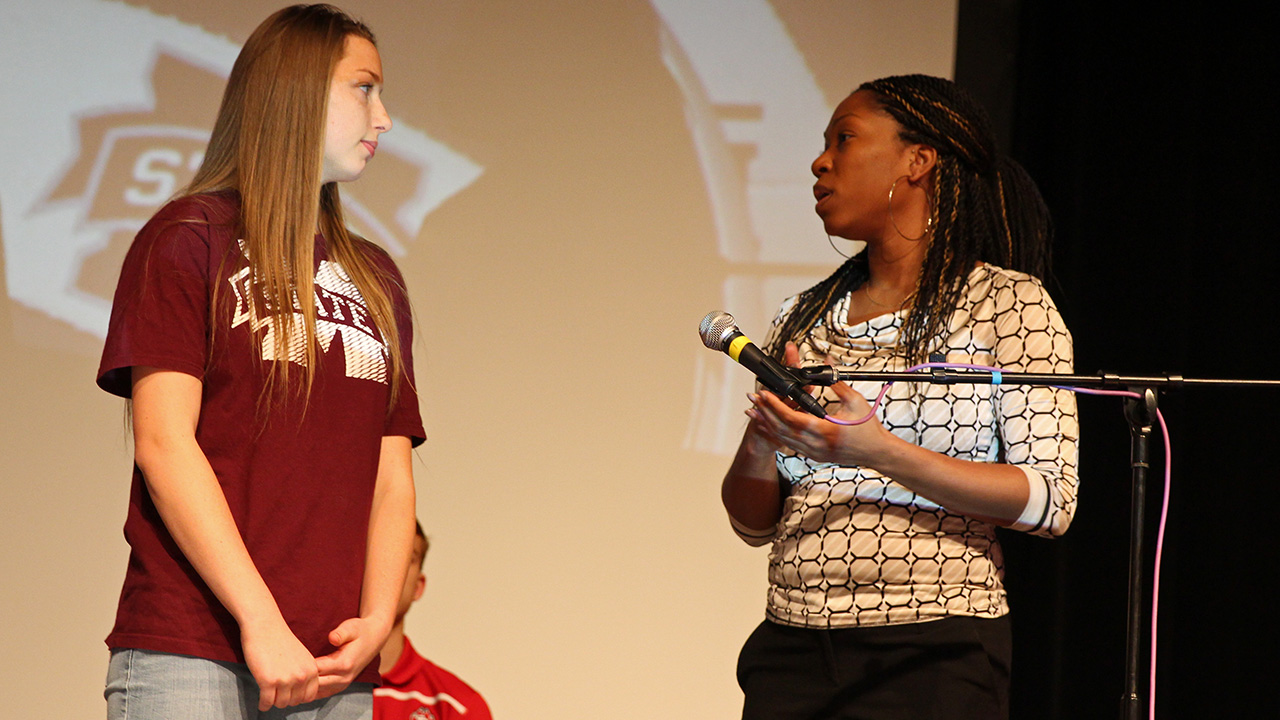 Guyer Wildcat volleyball outside hitter Emily Hill listens to coach Addie Mack talk about her stellar tenure with the team.
Football
PJ Broussard – East Texas Baptist University
Mike Carrillo – Trinity Valley Community College
Chadwick Hickson – Oklahoma Panhandle State
Tevan McAdams – Trinity Valley Community College
Dharius Timmons – Oklahoma Panhandle State
Cameron Wax – Southeastern Oklahoma
Golf
Connor Ross – Incarnate Word
Soccer (Boys)
Billy Burford – Dallas Baptist
Soccer (Girls)
Ashley Lyons – University of North Texas
Softball
Alyssa Dixon – Henderson
Lauren Lindgren – Midwestern State
Riley Oldham – NCTC
Tara Solomon – Texas Woman's University
Track & Field
Ethan Toy – University of South Dakota
Volleyball
Emily Hill – Mississippi State
Mallory McKnight – Radford University
Tabitha Spray – Arkansas Tech
Ryan High School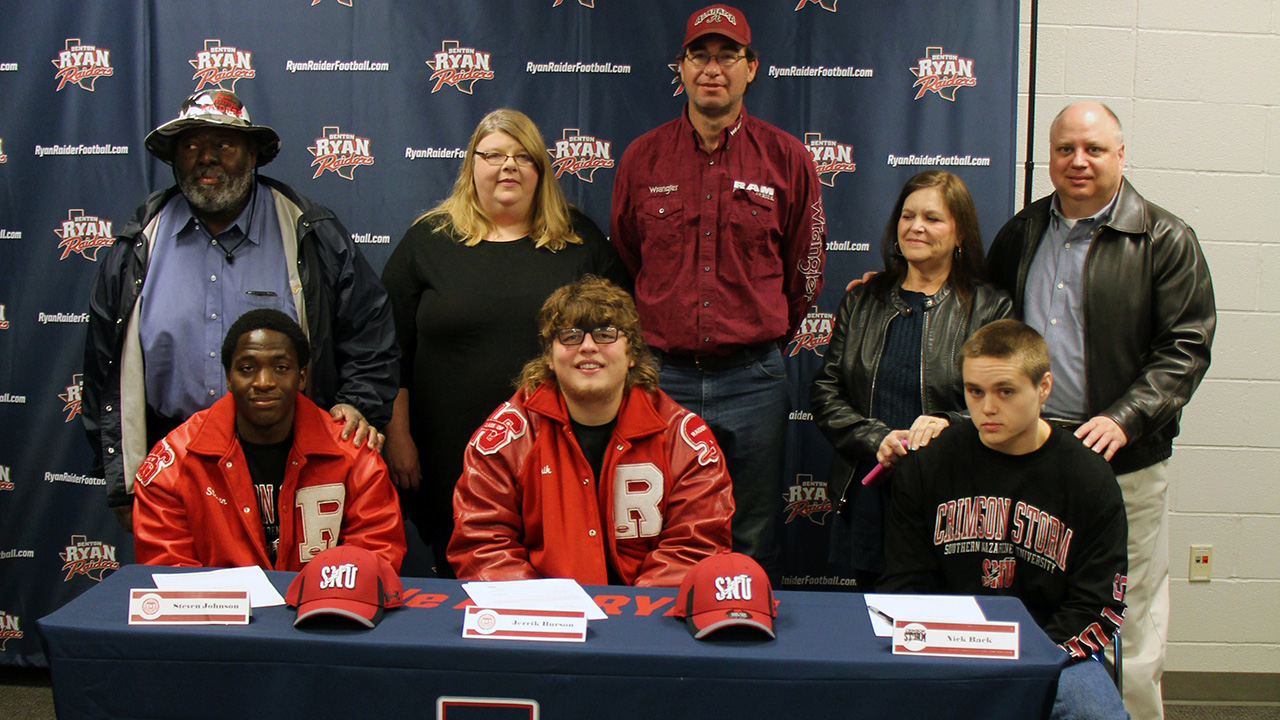 The Ryan Raider football trio of Steven Johnson, Jerrik Burson and Nick Back signed letters of intent with Southern Nazarene.
Baseball
Michael Bobo – UT Dallas
Jordan Box – UT Dallas
Football
Nick Back – Southern Nazarene
Jerrik Burson – Southern Nazarene
Steven Johnson – Southern Nazarene
Ken McLaurin – SMU
Soccer (Girls)
Lizzy Tilton – Murray State
SIGNING DAY PHOTOS
To see photos from Denton, Guyer and Ryan signing day festivities on the district Flickr account, click here. Photos are available to download with the use of a Yahoo account.