Return to Headlines
Superintendent Jamie Wilson identified as top communicator by national association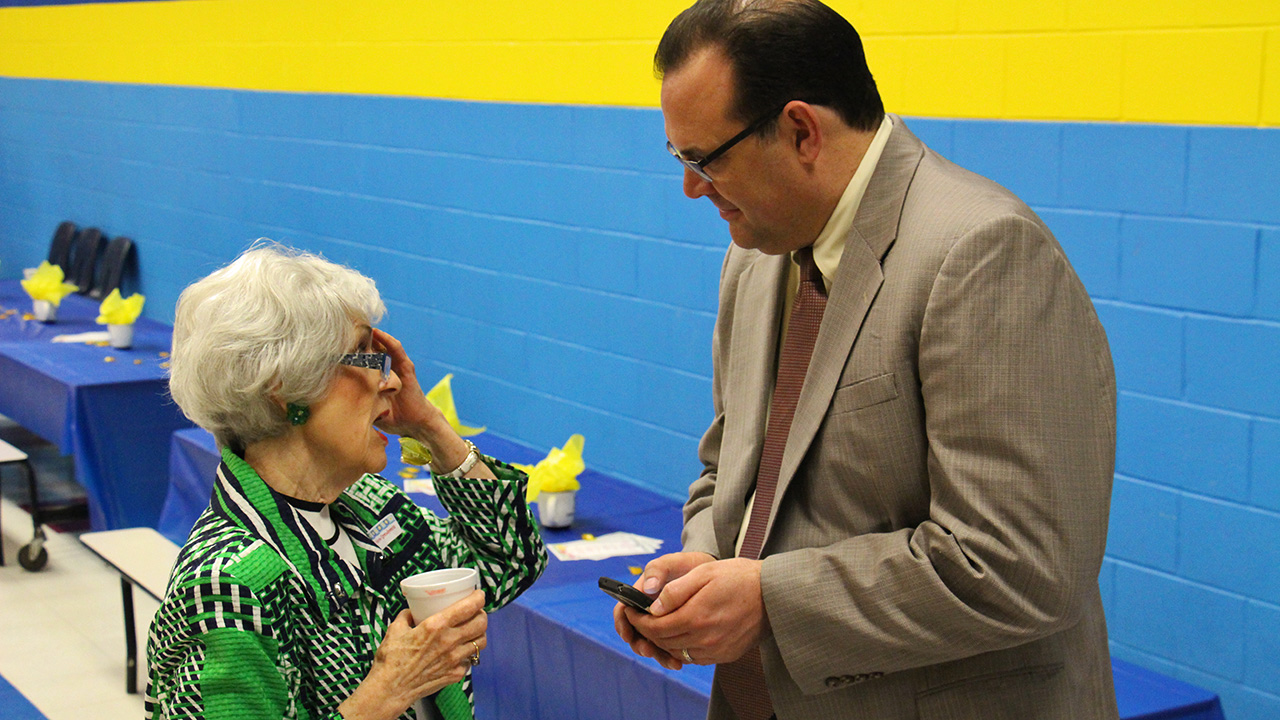 The National School Public Relations Association has selected Dr. Jamie Wilson, Denton ISD superintendent of schools, as one of 24 education leaders for outstanding community engagement and communication practices. Dr. Wilson is the lone honoree from Texas and the only representative from the organization's South Central Region of the United States, which encompasses seven states, named as a 2015-16 Superintendent to Watch.
"By recognizing the work of superintendents like Dr. Wilson, NSPRA hopes the commitment to communication will spread to other districts throughout the United States," said Rich Bagin, APR, executive director of the National School Public Relations Association. "We know that students, staff, parents and community leaders all reap the benefits of effective communication in their schools."
Per the award's criteria, winners are recognized for using dynamic, fast-paced leadership with strong communications and research at its core. The award is designed to recognize superintendents, with fewer than five years' experience as a superintendent, using communication technology in innovative and effective ways.
"In his short tenure as our district's top educator, Dr. Wilson has distinguished himself as a leader, advocate and effective communicator in both the region and state," said Barbara Burns, Denton ISD board president, in her letter of nomination. "Dr. Wilson's personal style lends itself to complete transparency, approachability and ability to affect change."
NSPRA recognizes leaders who engage and inform their school communities with new communication technology tools combined with tried-and-true techniques. The Texas Association of School Boards also supported his nomination.
"As we were preparing to host our first Business/Education Forum, an event designed to highlight outstanding school-community relationships, Dr. Wilson's work at Denton ISD came to mind," said Karen Strong, associate executive director of communications and public relations at TASB. "He clearly works collaboratively with a large number of business and community groups, and by sharing that model, he has helped other Texas districts envision what might be possible in their own communities."
Samples of publications, including the district's magazine; published newspaper articles, including op-ed pieces; the district website, including a recent re-design; and Dr. Wilson's social media presence were all tracked as part of the selection process. The district's recent notoriety as one of innovative practices was also considered.
In 2015, the district began a public conversation with district stakeholders to develop a community-based accountability report entitled "What We Value." Through a series of surveys conducted by a third-party administrator, K12 Insight, the district formulated a report that drives the development of all district and campus education improvement plans.
Based on this report and new direction from the Texas education Agency, the Denton ISD Board of Trustees unanimously voted to move forward with the process of designating the school district as a Texas "District of Innovation." At the conclusion of the process, districts will be exempt from certain requirements imposed by state laws, including unfunded mandates from the Texas Legislature.
Dr. Wilson and the Denton ISD administrative team are currently sharing this process and philosophy with educators and business organizations at numerous state and national conferences.
Since 1935, the National School Public Relations Association has been providing school communication training and services to school leaders worldwide. NSPRA's mission is to advance education through responsible public relations and communication that leads to success for all students.
SEE ALL THE WINNERS
To view the complete list of NSPRA's 2015-16 Superintendents to Watch, click here.