Return to Headlines
Jostens Teachers of the Year honored by trustees, community and peers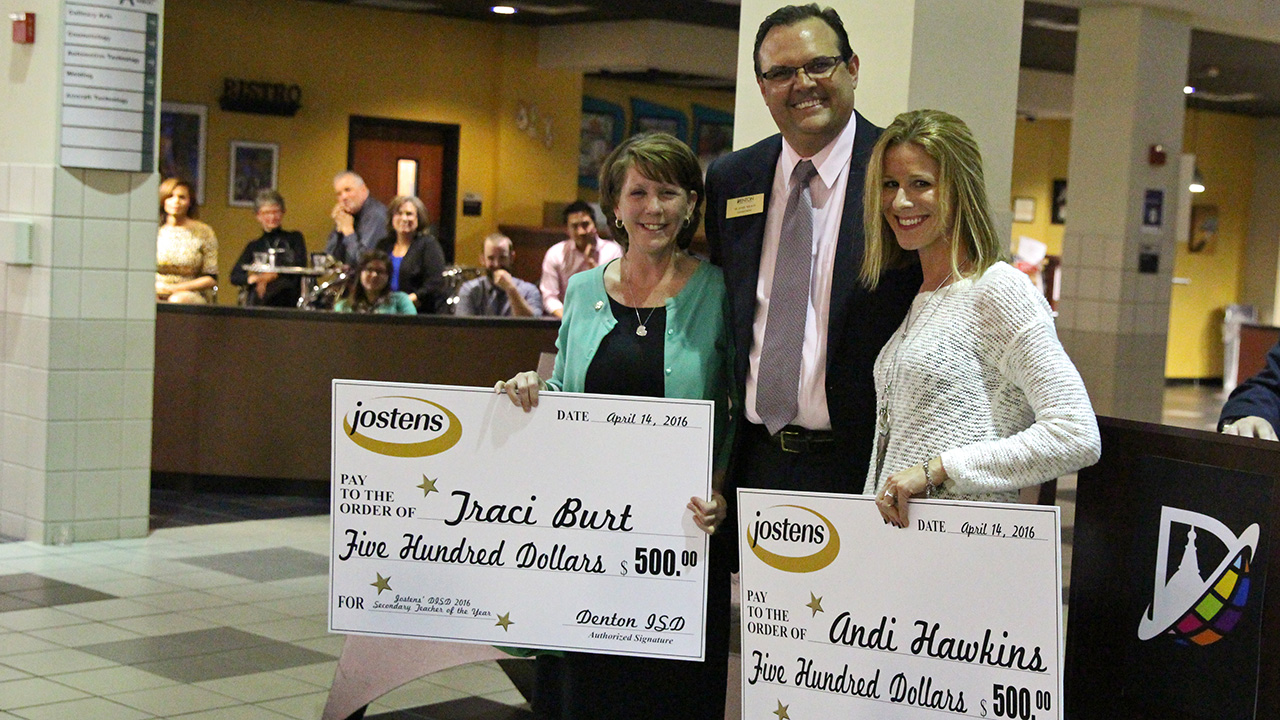 Teachers from 34 Denton Independent School District campuses were honored by the Board of Trustees as well as local business and community leaders for being the top educators at their schools at a recent reception at the LaGrone Advanced Technology Complex.
Members of the Teachers Communications Committee of Denton ISD named the 34 educators as the district's 2015-16 Jostens Teachers of the Year for their outstanding work in the classroom and ability to engage students in learning.
At the presentation, the district's top two educators, who will represent Denton ISD at the Regional XI level, were also announced. Andi Hawkins, a P.E. teacher from Ryan Elementary, was named the Jostens Elementary Teacher of the Year, and Traci Burt, an English teacher at Ryan High School, was named the Jostens Secondary Teacher of the Year.
Jostens was named the district's official partner of the award as company officials wanted to recognize all the educators receiving the honor by donating a gold ring to each teacher. In all, Jostens' contributions to the award are valued at more than $30,000.
In 2004, the company designed the special Teacher of the Year ring for Denton ISD's top educators, a now-annual tradition for the company and district. The following year, local businesses San Bay Studios, DATCU and James Wood Auto Park stepped forward to also sponsor the event.
The district's elementary Teachers of the Year include:
Adkins: Ashley Jones, kindergarten
Blanton: Tamarra Thiessen, second grade
Borman: Karrie Windham, third grade
Cross Oaks: Collin Jones, P.E.
Evers Park: Jessica Colson, first grade
Ginnings: Susan Patrick, third grade
Hawk: Jamie Rives, music
Hodge: Joanna Gonzalez, bilingual third grade
Houston: Michele Tinch, kindergarten
Lee: Rebeca Olver-Alfaro, bilingual fifth grade
McNair: Annamarie Edwards, first grade
Nelson: Lisa Davidson, kindergarten
Paloma Creek: Melanie Stewart, music
Pecan Creek: Kim Solley, inclusion
Providence: Erica Lease, art
E.P. Rayzor: Aleisha Fuller-Moore, first grade
N. Rayzor: Cheree Barnette, music
Rivera: Audrey Bryant, counselor
W.S. Ryan: Andi Hawkins, P.E.
Savannah: Claire Biggs, first grade
Stephens: Kelly Kuykendall, first grade
Wilson: Vanessa Suarez-Arispe, fifth grade
Gonzalez: Dixie Crossland, pre-kindergarten
The district's Secondary Teachers of the Year include:
Calhoun: Darlene Petit, language arts
Crownover: Robert "B.J." Garcia, math
Harpool: Kayla Keese, inclusion
McMath: Gail Frisby, English
Myers: Jenifer Hamilton, reading
Navo: Gina Woodling, science
Strickland: E. LeRoy Rowe, industrial tech
Denton: Robert Brannock, music
Guyer: David Jensen, social studies
Ryan: Traci Burt, English
Davis DAEP: Anna Braudrick, social studies
SEE CEREMONY PHOTOS
To see photos from Denton ISD's recent 2015-16 Jostens Teachers of the Year ceremony, click here.