Return to Headlines
Harpool's Kaylee Bragg wins state history trivia contest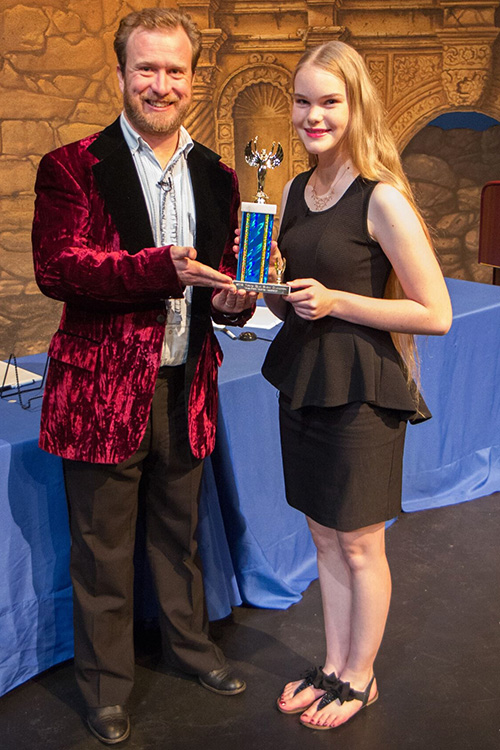 Kaylee Bragg
Harpool Middle School eighth-grader Kaylee Bragg recently won a statewide history trivia contest, beating nearly 4,000 students to claim the victory.
Competing at the Texas Quiz Show in Austin, Kaylee faced off against 21 other middle school students across the state in the final round of the competition. In the contest, students were challenged to individually answer Texas trivia questions correctly. Questions were created by an education committee of local teachers and historians before being approved by the Texas State Historical Association, the host of the contest.
Kaylee advanced through three rounds – a preliminary round, semifinal and final – to win the contest, with each round containing increasingly difficult questions. To make it to the state contest, Kaylee first had to beat thousands of students in four online rounds of competition. In those rounds, scores were awarded based on correct answers and the time it took to give those answers.
As a result of her victory, Kaylee received numerous prizes, highlighted by a private tour of the Alamo and a Capital Cruises private sunset bat-watching cruise on Lady Bird Lake. Other prizes included a variety of museum admission tickets, Texas history books and $100 in Amazon gift cards. Kaylee will also serve as the spokesperson of the year for the Texas Quiz Show, including video and personal appearances.
The win also marks the culmination of Kaylee's three-year participation in the Texas Quiz Show as a Harpool student. In sixth grade, she competed as part of Harpool's team, and in seventh grade she placed in the contest's top three finishers.
For more information about Harpool's social studies program, please contact Travis Turek, department chair, by phone at 940-369-1724 or via email at
tturek@dentonisd.org
.
LEARN MORE
For more information about the Texas Quiz Show, visit its official website by clicking here.