Return to Headlines
Laura Bush Foundation awards Windle $6,800 library grant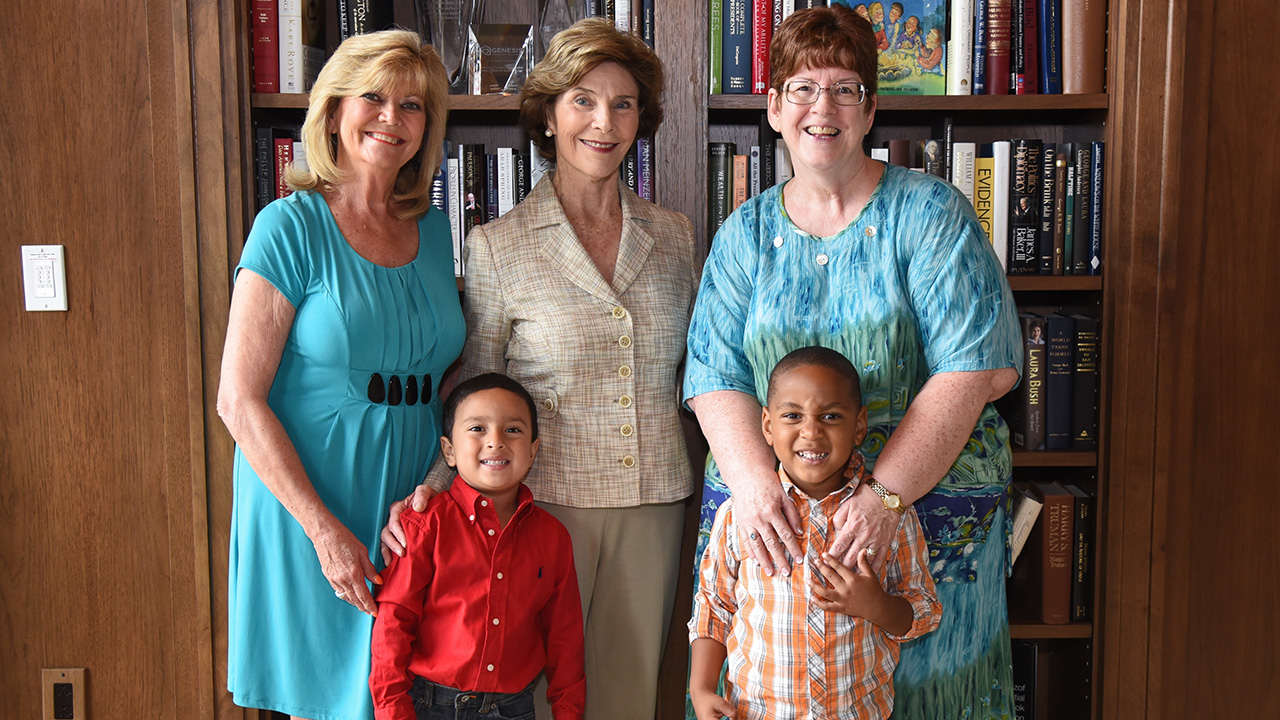 The Laura Bush Foundation for America's Libraries recently awarded Denton ISD's Ann Windle School for Young Children with a $6,800 grant for the school's library, with the former first lady meeting with campus staff as part of the honor.
Windle was among just 130 school libraries across the United States that received grants from the Laura Bush Foundation for America's Libraries. This year, the foundation gave more than $831,000 to U.S. school libraries through its grant program. The foundation provides grants of up to $7,000 to the neediest U.S. schools to extend, update and diversify the book and print collections in their libraries. These books help meet the foundation's goal of encouraging students to develop a love of reading and learning.
"With this grant, your librarian will order new books and materials for your school – something everyone can enjoy," Mrs. Bush said. "I challenge every student to build your reading skills during the summer break, and come back to your new-and-improved school library ready to learn next year."
Mrs. Bush met with Dallas-area grant recipients – including Windle and Denton ISD staff members as well as Dallas ISD librarians – at a recent ceremony at the George W. Bush Presidential Center. The event celebrated the release of the children's book Mrs. Bush co-authored with daughter Jenna Bush Hager, "Our Great Big Backyard," with both the Windle and Dallas ISD representatives receiving signed copies for their libraries.
Windle will use its grant to expand its non-fiction and Spanish collections and add award-winning fiction books to its library. Currently, its library is primarily composed of fiction books.
Betty Nance, librarian at the Windle and Gonalez schools for young children, said the grant will have an immediate impact on Windle's library.
"This will mark a tremendous improvement and help build our library for the young reader, offering them a variety of book types they can enjoy," she said. "It was such an honor to meet Mrs. Bush – a former librarian and educator herself – because I've always admired her passion for reading and how her work has positively impacted children across the nation."
Donna Kearley, the Denton ISD library media coordinator who wrote the grant proposal, shared Mrs. Nance's thrill of the award.
"This grant will bring some much-needed resources to Ann Windle and give our children a variety of choices as they learn to read," she said. "Mrs. Bush is a gracious and lovely woman, and her love of education was apparent as she spent time with two of our students."
Photo courtesy of Grant Miller for the George W. Bush Presidential Center. Seen in the photo are, from left, Betty Nance (Windle librarian), Laura Bush and Donna Kearley (Denton ISD library media coordinator) along with Windle students Matthew Garcia and Ashtin Fleeks.
LEARN MORE
For more information about the Laura Bush Foundation for America's Libraries and its grants, visit its official website by clicking here.