Return to Headlines
Board restructures bonds to save district taxpayers millions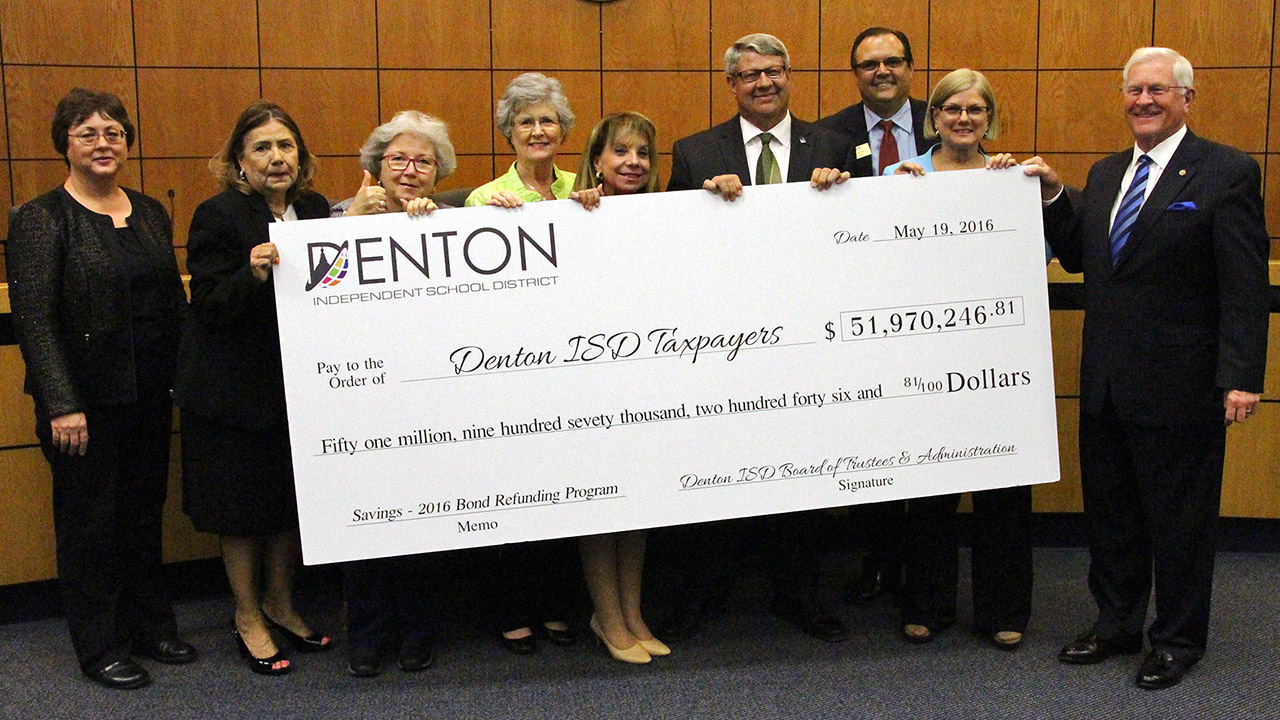 The Denton Independent School District Board of Trustees recently reviewed options on the refunding, prepayment and capacity of bonds for the district.
Trustees authorized the sale of the district's unlimited tax refunding bonds, series 2016, to achieve a lower interest rate on existing bonds. The sale reduced the district's exiting rate from 5.04 percent to 2.79 percent, netting Denton ISD taxpayers a savings of more than $51.9 million over the term of the bonds.
The board's goal when reviewing the district's existing bond structure is to:
Pay off existing debt as quickly as possible
Maximize future savings by refinancing when the market allows
Maintain favorable bond ratings, which equates to lower interest rates for district bonds and future long-term savings for Denton ISD
Denton ISD is one of the fastest growing school districts in North Texas in terms of students added and number of homes being built. With more than 27,600 enrolled students, the district has grown by approximately 20 percent since 2010. In addition, Denton ISD ranks second in the area in number of home starts and closings.
In an effort to augment tax payer savings and expedite the payment of existing debt, the board raised the debt service fund by one cent to 50 cents per $100 valuation, the maximum allowed by the state, in 2015. This one cent increase has accounted for an additional $1.13 million in principal bond payment and savings of more than $1.22 million in interest over the term of the current bonds.
Trustees are in the process of discussing the approval of a budget for the 2016-17 school year, which will be set at a public meeting on June 28.