Return to Headlines
Charlene Parham named Crownover Middle School principal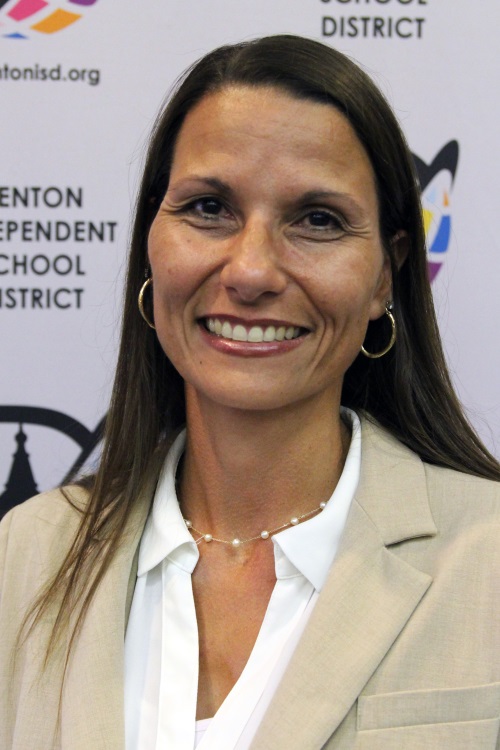 Charlene Parham
Charlene Parham, principal of Sanger High School, has been named the new principal at Crownover Middle School. She replaces Jason Rainey, who was
named the district's new executive director for human resources
in May.
"Through the course of her career, Charlene has earned a reputation for developing great relationships with her teachers and staff, which carries over into positive gains for instruction and learning," said Susannah O'Bara, area superintendent of academic programs. "She lives in the attendance zone, is familiar with many of our families in the area and I believe she will only enhance the climate and culture that has been established at Crownover."
Mrs. Parham has spent the past two years as principal of Sanger High School, where she was recognized for implementing a campuswide Professional Learning Community with common assessment and lesson planning. During her tenure, the school posted increased growth in all advanced level III STAAR end-of-course exams.
She brings more than 18 years of educational experience to her new role at Crownover, including 10 as a principal or assistant principal. Mrs. Parham is also familiar with the district, having served as an assistant principal at Guyer High School for a year.
"I believe relationships are a big part of anything you're trying to do," Mrs. Parham said. "High school kids are a lot like middle school kids, only bigger. They want to feel appreciated, loved and get excited about school. I've learned that when you can capture a student's heart, you have their mind as well and that applies to employees, too."
Mrs. Parham began her career as a teacher and assistant coach in Garland ISD before serving as a head softball and head volleyball coach in Irving ISD for seven years. She moved into administration with White Settlement ISD as an assistant principal at Brewer High School, eventually being named principal of Tannahill Intermediate School.
Mrs. Parham played collegiate softball at the University of Kansas, graduated with her bachelor's degree from the University of Texas at Arlington and earned her master's degree in mid-management administration from Tarleton State University.
She and her husband, Brett, reside in Corinth with their three children, Dylan, Carson and Cali.