Return to Headlines
The Coach: Determination, a touchdown and friendship have defined the bond between the Atkinson and LaPlante families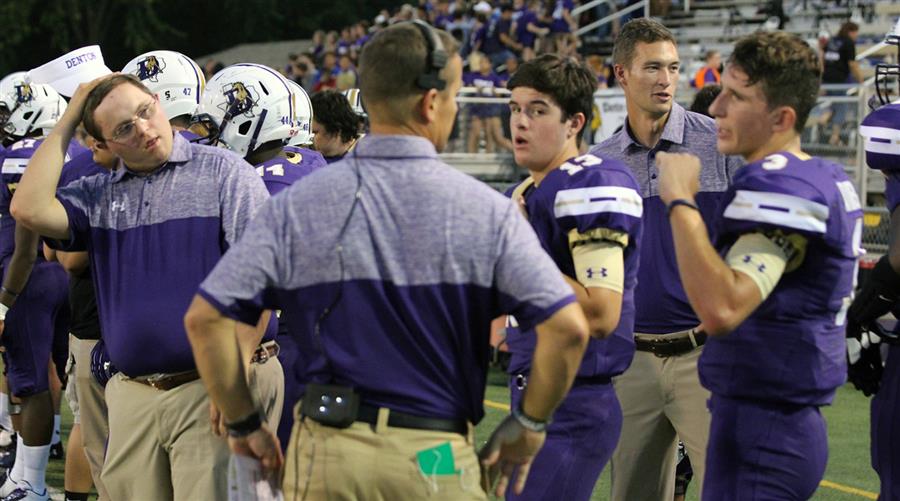 They say that the relationship between a high school coach and student-athlete is a special, lifelong kinship built on trust, sweat equity and inspiration.
The coach pushes the pupil to new heights of performance in an effort to accomplish things that the individual or his/her team might not have even dreamed. The student-athlete – internalizing "the voice" of the one that motivates and challenges them, embraces the coaching and becomes just like the mentor.
Their relationship is built solely on common experiences - hard fought battles on the field of competition - that result in victories, both moral and real, and defeats that develop character to handle life's everyday situations.
For further proof of how these relationships are supposed to develop and grow, look no further than the sidelines at Denton High School's football games and practices. Bronco senior quarterback Colton Atkinson and his position coach, Lyndon LaPlante, have a bond built on life-shaping lessons they've shared for more than a decade.
"Being up here everyday, and helping us out by being my quarterback coach when he doesn't have to - he could be doing 100 other things - but he chooses to be up here doing what he loves," Colton said of Coach LaPlante. "Honestly, he's helping us to become better men.

"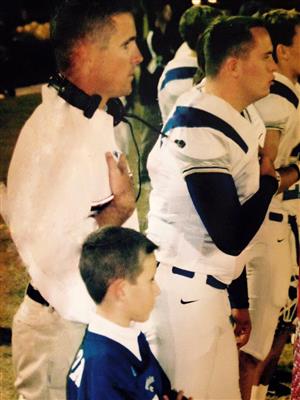 Coach LaPlante has served as a friend and role model to Colton since he was a three-year old attached to his dad's hip on the sidelines. But at that time Colton's dad, Bronco head football coach Kevin Atkinson, didn't know much about Lyndon LaPlante other than being a confident eighth grader with a passion for football.
Their introduction came in the fall of 2001 when Atkinson, recently named the head football coach at Keller High School, met LaPlante for the first time and he proclaimed to one day play for him on the Indians football team.
Though his love of sports made him yearn to play football since the age of five, LaPlante's family accepted that it was not possible for him to play since he was born with Down Syndrome. Individuals with Down Syndrome run a greater risk of brain injury if they sustain a blow to their head or neck, so playing football, as doctor's told them, was not possible.
The doctor's advice didn't deter LaPlante from being a part of the team. And his enthusiasm for the game proved to the new head coach that he belonged too.
"He didn't dress out with the team for the first two years because I wanted him to earn his spot," said Coach Atkinson. "He went with the freshmen team, and traveled to away games kind of as a manager. But he was always at practice, every day."
Lyndon had an assistant on the sidelines who helped him with his clipboard duties, five-year-old Colton, who also served as the team's ball boy.
"In the beginning at practice, Lyndon would sit on a golf cart and help move things around for the staff," said Colton. "I would always pester him to come play catch with me or run around with the ball. Lyndon would always tell me he didn't have time because was focusing on learning plays just in case he ever needed to go in the game - so he would be ready."
By his junior year in 2003, LaPlante had earned the coaches and players' respect through his positive attitude and work ethic. Coach Atkinson said it occurred to him that LaPlante should be on the team and even learn a play, one that might eventually lead to his participation in the game.
---
"The crowd was chanting 'Lyndon, Lyndon!' and I will never forget it. I don't think I will ever score as big a touchdown as he did that night."
COLTON ATKINSON, DHS VARSITY QUARTERBACK
---
Issued jersey No. 1 and listed on the official team roster as Keller High's "secret weapon," LaPlante had lived up to his word. And he said he couldn't have done it without the strength and empowerment he learned from Coach Atkinson's example.
"I really felt that Coach was giving me an opportunity to be the best that I could be," said LaPlante.
"As a coach, we are in the business of influencing the lives of young people," said Atkinson. "I've always thought about Lyndon - what would it be like if he were my son? Or, if I was Lyndon? I wanted to give him every opportunity that every other kid gets."
The play called for LaPlante to receive the ball on a hand-off, run 10 yards and head to the sidelines for a hug from Coach Atkinson. The opponent for the final regular season game in which LaPlante would play was Richland High School, coached by Gary Weir, a close friend of Coach Atkinson. The two agreed that on the first play of the fourth quarter LaPlante would enter the game, run through the line untouched, get his first-down run and celebrate with his teammates on the sideline afterward.
"Lyndon came home from practice that week during his senior year and said, 'Hey Mama, Coach said I might get to play in the game this Friday!'" said Genni LaPlante, his mom. "I thought to myself, 'Well maybe,' but surely it wasn't going to be a real play in the actual game."
But the more Coach Weir thought about it and what Coach Atkinson had shared with him about LaPlante, the more he thought the run should lead to a touchdown. Little did either coach know what would happen next would eventually make LaPlante a legend in at least two communities in North Texas.
Following a fourth quarter stop, Richland delivered an amazing punt that would trickle, roll and bounce all the way to the Keller 1-yard line. The epic punt set up an unbelievable run as LaPlante took his hand-off, burst through the line and raced down the field for a 99-yard touchdown run.
The moment, caught on video by several fans in the stands, went viral at a time before anyone knew or used the term going "viral" to describe a video that received millions of Internet views. The video made LaPlante an inspiration to others and a local celebrity, while Coach Atkinson received letters from parents and citizens from across the country who saw the 99-yard score on their local television newscasts.
"At that time, I don't believe anyone had orchestrated that type of play with a special needs student," said Coach Atkinson. "I think we were one of the first, if not THE first."
Seven years later, when Coach Atkinson accepted the Denton High School head coaching job in 2012, he had one condition of employment - LaPlante, who had graduated from high school, would coach quarterbacks for the Broncos. And their offices would be next door to one another.
Standing on the sidelines of a recent Bronco football game decked out in a purple polo and khakis, LaPlante looks like all the other coaches. He acts just like them too - slapping players on the shoulder pads to fire them up and yelling at officials when they don't toss a flag on a perceived penalty.
To Colton and the rest of his teammates, however, LaPlante is no ordinary coach. He's informally introduced to every varsity football team by way of an inspirational story and a highlight video that shows the memorable 99-yard touchdown run. According to Coach Atkinson, when the video finishes, there's rarely a dry eye in the film room.
The play usually brings, not tears, but a smile to Colton's face. Football provides the frame and common language for these lifelong friends and Colton said he relishes the time they spend together. In fact, he can't remember a time when he, football and Lyndon LaPlante aren't together.
"Watching him come to practice when he was in high school, working hard day after day just to get the chance to play in one play, in one game, drives me," said Colton. "He helped coaches and players just to earn that one opportunity… And he's still here."
"He really pushes me. Sometimes I feel like I can't doing anything right, and he preaches to me to have great effort and 'play all out.' That's what I've tried to do, and I've been doing it for him."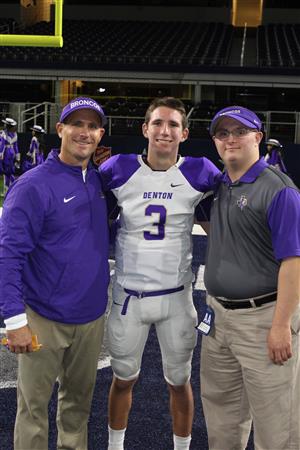 Coach LaPlante, now 30, said he learned several things from 'growing up' alongside Colton, including how to be a warrior in the face of adversity and not to be afraid. He has also learned how to be a great friend.
"Colton is the best friend I've ever had," LaPlante said.
Wanting to make his best friend the best quarterback he can be has pushed LaPlante even more. He and Colton have spent hours together studying plays and watching film. Genni said even at home watching college games, LaPlante can often be found diagramming plays or pointing out errors in others.
"There are nights when Lyndon will text me a link to a YouTube video of a drill that he believes we need to try in practice the next day," Coach Atkinson said. "He is a pure student of the game."
Colton hopes to have an opportunity to play at the college football next year. But if that doesn't work out, the player and his coach have ideas about how to stick together in the years ahead.
Colton wants to pursue the family business, and become a head coach someday. If that happens, he hopes to offer Coach LaPlante a job on his staff.
Either way, he knows he can't top his best friend's best moment on the football field so he continues to use it as motivation.
"The crowd was chanting 'Lyndon! Lyndon!' and I will never forget it," said Colton. "I don't think I will ever score as big a touchdown as he did that night."
But he's learned an even more valuable lesson.
It's a lesson of friendship, trust and acceptance. It's a lesson passed down from his own father, even if that wasn't his intention from the start.
"One of the factors is this - someone on our team is going to have a baby with Down Syndrome, a baby or a family member or know someone with it," said Coach Atkinson. "Sometimes it's all in the way you look at it and that's what I want them to learn. I think I want to provide them with the opportunity that if you do have a child with special needs they can do things, great things. Don't put limits on them - strive to reach their goals."
"Man, you can do great things and have a great time doing it. We sure are."
To view a clip of Lyndon LaPlante's 99-yard touchdown run for the Keller Indians featured on WFAA in 2005 visit: