Return to Headlines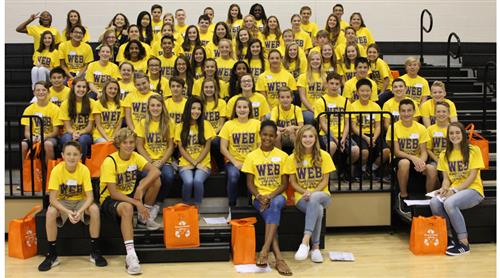 The transition from fifth grade to sixth grade can be stressful for even the most self-assured student, much less those wondering what horrors lurk around the corner of the hallways in middle school.
Cameron Mulvanny's fears fits somewhere in the middle.
Excited to meet new people and take part in the extra opportunities middle school provides, Cameron was eager to start sixth grade. But coming from an elementary school outside the Harpool Middle School attendance zone, he was also pretty sure none of his old friends would be there on the first day of school.
"Without WEB, I'm pretty sure I would've been unprepared for Day 1 of sixth grade," Cameron said. "Now I know eighth graders and I know they're going to talk to me and help me if I have questions. That made me more confident walking into school."
Harpool's WEB (Where Everybody Belongs) program has been helping students like Cameron ease into middle school life for nine years now. Since the school opened in 2008, it has offered the transition program to its incoming sixth-graders in an effort to not just take their minds off of the switch to a new building and no more recess, but to also help them relate to their older peers.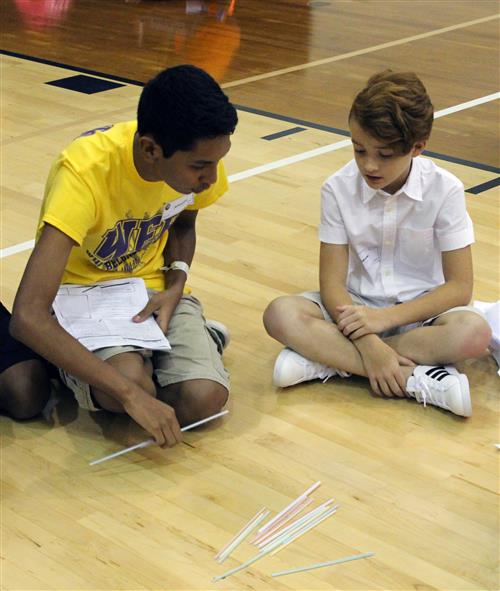 While every middle school in Denton ISD offers a transition program or orientation to first-time sixth graders, WEB is unique in that the program is primarily led by current students. Started at Strickland Middle School by former principal Mike Vance, WEB was brought to Harpool by Mr. Vance as a transition piece to get students involved in the opening of the school.
Jeff Smith, an assistant principal under Mr. Vance and Harpool's current principal, said students jumped at the opportunity to take part in helping others not just see the excitement of opening a new school but also transition to middle school. It is one of most popular extracurricular student groups at the school, with rising eighth graders having to go through a strict application process before being selected to just one of 75 spots.
"I tell the WEB Leaders every year that there's only one of me and there's 70-something of you, so if someone is going to make a difference here it's more likely to be you than me. I think that helps them realize that they're leaders and role models to these sixth graders just as much as the adults are," Mr. Smith said.
The program features the traditional rules and expectations presentation from teachers and administrators, but WEB's "bread and butter" is the group talks and student-led activities that take place afterward. As Mr. Smith proudly points out, this is when the older students realize that Harpool is their home too and that they want others to feel happy and welcome there.
It's here where you really begin to see the eighth graders shine as leaders, guiding a group of younger peers through a typical peer pressure scenario or showing them how to properly float a balloon to win a race. It's at this same time that you see the sixth graders gain a bit more confidence, perhaps knowing that they have an upperclassman in their corner right from the start.
"It definitely helped me knowing that I had an upperclassman to show me where to find a class or to talk to at the first school dance," said Maria Livas, a student WEB Leader. "It's our way of giving back since we've been in that place and know what they're going through. Hopefully we can help them with whatever is going on in their lives."
Program co-directors Laura Lee, a seventh-grade science teacher, and Erin Rooks, an eighth- grade reading teacher, said it takes special students to be WEB Leaders because they're involved in activities with sixth graders the entire school year, not just on the one day the program takes place before the school year begins.
From group activities, to a sixth-grade movie day to helping with events at Blanton Elementary's Field Day, students in WEB come to embody everything that is great about being a Harpool Longhorn. Their role, simply put, is to ensure that Harpool is a place Where Everybody Belongs, said Rooks.
That message apparently hit home for Cameron, as he walked out of the school gym that day talking and laughing with friends he made. It also left an impression on Mia Jones, whose older sister, Tamira Franklin, served as a WEB Leader.
"It would be really hard going to school here not knowing anyone," Mia said. "I wouldn't want to do it, so I'm happy that they have WEB."