Return to Headlines
Another big score for GOAL
If you think that a student organization aptly named GOAL would be all about soccer, physical fitness and, for lack of a better description, scoring goals – then you'd be completely wrong.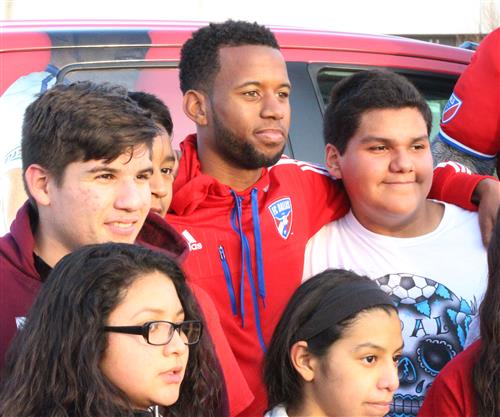 Everyone associated with GOAL, knows there is more to it than soccer. Those that are quickly becoming associated with the program are understanding the concept too.
"School and life are major parts of GOAL. We understand that without school, we wouldn't have GOAL, and without the support of the community we wouldn't have school," said Gabriel Lira, an eighth grader at Strickland Middle School. "Those two are tied together and why we know we have to do well in school and why we give back to our community."
Kellyn Acosta, a member of FC Dallas, recently got a first-hand look at what the Guys/Girls Operating as Leaders (GOAL) program is all about. The Major League Soccer standout visited with members of the Strickland GOAL program as part of a donation on behalf of the team and Elephant Auto Insurance.
Mr. Acosta spoke to the students about the importance of being a leader on the soccer pitch, in the classroom and in your community. When he learned that the members of SMSC and the Valkyries (Strickland's boys and girls soccer clubs) routinely practice that same message as members of GOAL, the MLS midfielder praised their work and encouraged them to continue on that path.
"It's great being out here and seeing what the students doing on the field and as volunteers in the community. I know all the guys and girls are very happy to be here, taking part in this program," Mr. Acosta said.
The team and company made good on their pledge to donate a soccer kit featuring balls, shin guards and goalkeeper gloves to the program for every goal FC Dallas scored this season. The final tally equaled out to 52 kits worth more than $2,600 and priceless memory for the 65 members of Strickland GOAL.
While many of the students got to take selfies or briefly chat with Mr. Acosta, almost everyone had the opportunity to practice their moves on the pitch or receive a little one-on-one coaching from him. Acosta, who grew up less than 30 miles away in Plano, even reminded the students that he was proof that they could follow their dreams.
"The message of being a leader definitely translates from the field to life," Mr. Acosta said. "I didn't have anything like this when I was growing up, so I'm thankful that I'm able to come out here and let them see that hard work does play off."
With more than 600 students participating and branches at each of the district's seven middle schools as well as satellite clubs at schools in the Lewisville, Lake Dallas and Sanger school districts, GOAL's message is definitely spreading.
Each club commits to doing one community service project per year, varying from food and coat drives to trash pick-up and voter registration drives. Student members, many of whom count English as a second language, also are performing better in class academically and establishing friends quicker than ever before.
"GOAL means a lot to us… having FC Dallas notice what we're doing means a lot to us too," said Lira.
"Yeah, it's not every day a middle schooler gets the opportunity to get face time with a professional soccer player. And it's even rarer when the player happens to be from the same area and reinforces the same message that is preached to them every day," said Biridiana Ordonez, a science teacher who also serves as the sponsor of the girls GOAL sponsor at Strickland.
"This is huge for us us, not just because of the donation, but because of the time Kellyn spent with the kids. It lets them see that what we're telling them is the truth," Mrs. Ordonez said. "Maybe it sinks in a little more coming from a professional soccer player or maybe it just helps them see that their dreams can come true."