Return to Headlines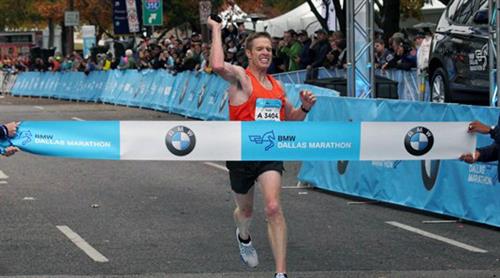 It can be said that a few kind words shared at a pivotal time when a student is young and impressionable can make a lasting imprint on a person, even change their life. That is what happened to Ryan High School's assistant track and cross country coach Keith Pierce when he tried running track in the eighth grade in Childress, Texas.
In December, Mr. Pierce, 36, won the BMW Dallas Marathon. It was only his 16th marathon to run and his sixth win with a time of 2:29:27.
"I'll never forget the first time I won a one mile race, Coach (Phillip) Rhodes, the Childress High School track coach, came up to me and said, 'Wow! You don't even look tired' and that really resonated with me," said Mr. Pierce. "I really liked Coach, and when he said that I think that really lit my fire to run competitively."
After running cross country for Coach Rhodes in high school, Mr. Pierce earned a college scholarship and ran track at Rice University. It was there that he decided to become a teacher.
"There's a direct parallel between marathon running and education," said Mr. Pierce. "You have days when you are working with teenagers that you can get down, and want to give up. I think about running in the BMW Dallas Marathon...at mile 15 I really wanted to give up and quit. I feel that way at the end of a school year, I'm really tired but I push myself to never give up on any of our kids."
Mr. Pierce runs on average 10 miles a day, between a 'wind down' run after work and running alongside the Ryan High Cross Country team. He said he's not always in training, trying to fit in a longer run here and there between class prep for his social studies, government and U.S. History classes.
His other waking moments are spent with his wife, Stephanie, and their five-year-old triplets – sons Keegan and Ashton and daughter Presley.
"The first student that congratulated me after the win in Dallas said 'Congratulations Coach, but you know that wasn't your best time, right?" said Mr. Pierce. "I laughed and said, you know what? You're right. And it's interactions like that keep me going."