Return to Headlines
Crownover math teacher, student project named a winner in national technology contest; vote to help them advance
UPDATE: Mr. Garcia's students are headed to the National Finals of the Samsung Solve for Tomorrow Contest in New York City in March. The team has earned $75,000 and is one of only ten schools in the country eligible to win. Help them advance and win a trip to Washington D.C. by supporting their project.
Vote for the project team from Crownover here http://www.samsung.com/us/solvefortomorrow/home.html
*************************************************
Robert (B.J.) Garcia, a seventh grade math teacher and coach at Crownover Middle School, was recently named a state winner in the Samsung Solve for Tomorrow contest for his proposal of developing a disaster relief pod with students in his classes.
As the state winner, Coach Garcia will receive $25,000 worth of Samsung technology to help his classes with the realization of his innovative idea. He advances in the contest and will represent Texas against other educators across the country with the opportunity to win an additional $150,000 in funds and Samsung technology for Crownover and its students.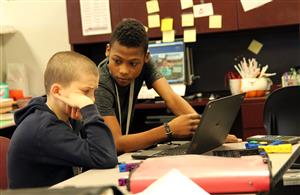 Coach Garcia plans on developing a disaster relief pod as part of regular classroom instruction with his students. He said he envisions them using a variety of problem solving skills as well as aspects of science, technology, engineering, art and math (STEAM) to study four dimensional design and come up with a solution that can be applied to the real world.
"This is an opportunity for our students to take the knowledge they have received inside a classroom and apply it outside of school," Coach Garcia said. "Students will never remember a test grade or a worksheet, but a hands-on and practical experience such as this is something they will never forget."
Samsung will notify the 10 national finalists of their selection next month, with each winning $50,000. The 10 finalists will then present their projects to a panel of judges before the three national winners are announced in March at an awards celebration in Washington, D.C.
Coach Garcia was a state finalist in the contest a year ago, winning a tablet for his project on natural gas fracking.
The Solve for Tomorrow contest was started by Samsung to raise interest in STEAM subjects among students by awarding their schools with a share of more than $2 million in technology and prizes. Past winners have worked on creating more effective rain water storage, produced a cost-effective prosthetic for a local veteran and developed an app that warns pedestrians of oncoming traffic.