Return to Headlines
Calhoun's Alyssa Trasporto wins district spelling bee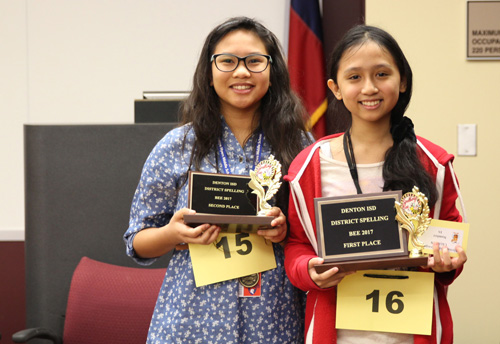 Calhoun Middle School seventh-grade student Alyssa Denise Trasporto won the 2017 Denton ISD Spelling Bee, sending her to the Denton County competition in February.
Alyssa won the competition of 21 students – three from each of the district's seven middle schools – after several rounds in the finals with a correct spelling of "diary." In addition to Alyssa, Myers Middle School sixth-grader Bernadette Vega will represent Denton ISD at the county spelling bee as a result of her runner-up finish.
The Denton County Spelling Bee is set for 6 p.m. Thursday, Feb. 16, at the Denton ISD Professional Development Center in Denton. If she wins, Alyssa will qualify for the regional competition in Dallas. The winner of that competition advances to the Scripps National Spelling Bee in Washington D.C.
The district competitors included:
Calhoun Middle School
Shaswat Aryal
Madeline Ray
Alyssa Denise Trasporto
Crownover Middle School
Cesar Jimenez
Ethan Jones
Sanjay Margabandu
Harpool Middle School
Audrey Lee
Chase Voorhies
Kaitlyn William
McMath Middle School
Julia Norton
Salma Omary
Emily Young
Myers Middle School
Manuela Marin Acevedo
Bernadette Vega
Autumn Ward
Navo Middle School
Chris Delgado
Dianny Elinge
Krista Tucker
Strickland Middle School
Claire Crawford
Breanna Smith
Grace Teague