Return to Headlines
District recognizes top elementary artists in annual AAS art contest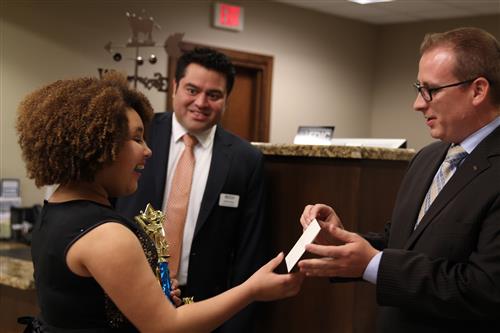 Denton ISD's Adopt-A-School program recently hosted a Young Artists Night at UMB Bank to honor all first-place winners in the annual Adopt-A-School Art Contest.
The evening featured the recognition of the top-five winners across the district with Saila Becker from Ginnings Elementary winning first place in fifth grade and Ella McNamara from E.P. Rayzor Elementary winning first place in fourth grade. The district winners received a Michael's gift card from UMB.
All first-place winners received a book including their artwork. That book can also be found in all Denton ISD elementary school libraries.
Fourth- and fifth-grade students were challenged to create essays and artwork for the contest regarding this year's topic, "My school is great because…" and judged by business and community members that are part of the district's Adopt-A-School program. The top-three essay and art winners were chosen from both grade levels at each Denton ISD school and surprised by district administrators and AAS reps at their campuses in December with trophies for their accomplishments.
The district winners included:
Fourth-grade
First place – Ella McNamara, E.P. Rayzor Elementary
Second place – Yoselin Luengas, Ginnings Elementary
Third place – Alexandra Futch, Stephens Elementary
Fourth place – Persis Seddoh, Cross Oaks Elementary
Fifth place – Pepper Rae Walker, Newton Rayzor Elementary
Fifth-grade
First place – Saila Becker, Ginnings Elementary
Second place – Vivian Holbert, Hawk Elementary
Third place – Jake DeBlanc, Blanton Elementary
Fourth place – Anna Iskra, Pecan Creek Elementary
Fifth place – Gabriel Lauderback, Paloma Creek Elementary
Fourth-grade school art winners:
· Adkins: Layla Raney
· Bell: Kailey Ann Edman
· Blanton: Logan Chase
· Borman: Bishista Thapa
· Cross Oaks: Persis Seddoh
· Ginnings: Yoselin Luengas
· Hawk: Caitlin Johnson
· Hodge: Maria Carlos
· Houston: Alessandra Rodriguez
· Lee: Kamyl Torres
· McNair: Kamylah Attice Phillips
· Paloma Creek: Denique Qualls
· Pecan Creek: Sammy Phelps
· E.P. Rayzor: Ella McNamara
· Newton Rayzor: Pepper Rae Walker
· W.S. Ryan: Avery Dossey
· Rivera: Juliana Garcia
· Stephens: Alexandra Futch
· Wilson: Luis Gonzalez
Fifth-grade school art winners:
· Adkins: Yaretzi Quiroz
· Bell: Logan Edwards
· Blanton: Jake DeBlanc
· Cross Oaks: Jayden Stock
· Ginnings: Saila Becker
· Hawk: Vivian Holbert
· Hodge: Audrey Magee
· Houston: Sriyam Joshi
· Lee: Maddie Callahan
· McNair: Gracie Cabrales
· Paloma Creek: Gabriel Lauderback
· Pecan Creek: Anna Iskra
· Rivera: Da'Niya Jones
· E.P. Rayzor: Maddux Morrow
· Newton Rayzor: Bonnie Tsoi
· W.S. Ryan: Brianna Florez
· Stephens: Charlie Viering
· Wilson: Sadie Hansen-Thomas