Return to Headlines
Joel Hays named new principal of Denton High School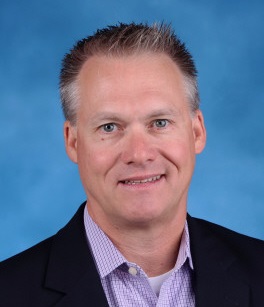 Joel Hays will officially have the interim tag removed from his title as he has been named the new principal at Denton High School effective immediately. Mr. Hays, has served as the interim principal at Denton High since January when Dan Ford assumed duties as executive director of curriculum instruction and staff development.
A 1984 graduate of Denton High, Mr. Hays brings more than 24 years of experience as an educator to Denton High, with the past five coming as a campus administrator. He has been the associate principal at Denton High since 2016, and previously served as the associate principal at Ryan High for four years.
Mr. Hays is proud to be back as the leader of the school that helped prepare him for the world. He said it's an experience that he can share with his fellow Broncos as they begin preparations for that next step.
"I think being the principal of the high school I attended has some advantages. You have to work with kids at their level – meet them where they are and guide them," Mr. Hays said. "It's easy for me to remember being that 16-year-old in the '81 Mustang blaring Van Halen in the parking lot and all I have to do it look out the window."
"One thing that has impressed me the most about DHS is the incredibly dedicated faculty and staff. They respect the history and traditions that this school represents to the community and they love working with kids."
Mr. Hays began his career in education as a chemistry teacher in Denton ISD in 1993. He went on to become the chair of the science department at Ryan High for 16 years, served on the academic leadership team, coordinated Professional Learning Communities within his department and developed curriculum for high school chemistry courses.
A graduate of Texas Tech University, Mr. Hays began his career as a medical systems sales representative. Upon entering the classroom as an instructor, he went on to earn his master's degree in Education Administration from the University of North Texas.
"Mr. Hays understands what it takes to succeed in the professional workforce and what it means to be successful in education, which is what we want all of our graduates to accomplish," said Dr. Daniel Lopez, area superintendent for academic programs. "To have a Denton High graduate who understands the traditions and character of being a Bronco, leading future Broncos is a huge win for the families in the Denton High zone. He truly brings heart to the heart of Denton."
Mr. Hays and his wife Stacy reside in Denton with their sons Gunnison, a freshman at Denton High, and Fletcher, a third grader at Houston Elementary.