Return to Headlines
Kindergartner signs teaching contract for 2033-2034

Members of the Denton Independent School District's Human Resources Dept. presented Brenden Flowers, a kindergartener in Mrs. Stephanie McNeely's class, with an 'intent to hire' form in front of his entire grade this morning at Evers Park Elementary School.
"This means that when Mr. Flowers completes college and his teaching certification, we will extend to him a contract for employment to teach, and in today's market that translates into earning $51,000 per year," said Dr. Richard Valenta, deputy superintendent. "In 2033 when he's scheduled to graduate, we don't know for sure, but we believe teaching will pay considerably more."
Under the umbrella of TEACH Denton, the district seeks out and identifies students, even as young as kindergarten, who exhibit natural talents and traits used in teaching. The program works with students of all ages who enjoy tutoring or leading class projects to cultivate the idea of pursuing a career in education.
---
"With $51,000 I could buy a lot of toys," said Mr. Flowers, Denton ISD's newest teaching prospect. "That's a lot of Voltron."
---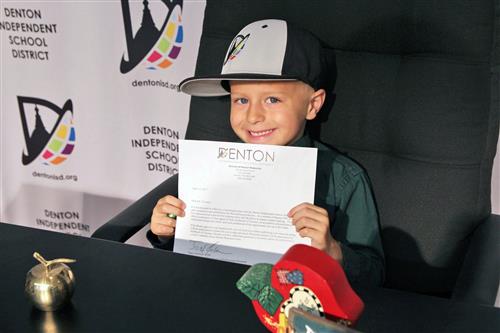 Mr. Flowers, a member of the Denton High Class of 2029, expressed a desire to teach to his parents and family sharing that his life-long dream is to become a math teacher.
"Brenden is exactly who our program is targeting," said Dr. Valenta. "He's bright, well respected by his classmates and eager to learn and lead."
TEACH Denton, in its second year, serves to raise awareness about teaching as a profession. Current Denton ISD teachers recommend young candidates in whom they see potential, the Human Resources Dept. works to build relationships with the student, provide incentives to pursue teaching and college assistance.
The promissory letter from the district stipulates that upon graduation from high school and with the completion of an education degree, including appropriate certifications, Denton ISD would accelerate Mr. Flowers through the hiring process to begin teaching at a district school for the 2033-34 school year.
"This is the new definition of 'grow your own' teaching force," said Dr. Valenta. "Mr. Flowers and others like him will now be paired with mentor teachers and administrators throughout his school career, and 'fast track' him into our Education and Training program at the LaGrone Advanced Technology Complex during high school."
Mr. Flowers is the son of Sean and Laura Flowers, who are both on staff at The University of North Texas.
For more on TEACH Denton, visit https://www.teachdenton.com