Return to Headlines
Hitting All the Right Notes
When you're one of more than 2,100 students at your high school, it takes something special to stand out in the crowd. Consider that box 'checked' for Courtney Lawson.
Students in Denton High School's Class of 2017 and those that continue to walk down the fine arts hall and into the choir room will know Courtney and her accomplishments from now on. The senior has her name etched on the "big board" in the choir room as one of only three students in the history of the school – and district – to earn UIL All-State recognition in fine arts for four consecutive years.
"When I made it as a freshman, I was in tears because I was so excited," Courtney said. "Then each year, as I continued to make it, it became a little more stressful because everyone expected me to make it again. This year when I got the news it was very rewarding because I knew all the work I'd put in had paid off and I could breathe a sigh of relief knowing I did it – I had achieved my goal."
So what does it take to become part of Denton ISD and Denton High fine arts history?
Talent, hard work, dedication and a killer work ethic are all part of the package according to Mark Baker, Denton High's choir director. But if you ask Courtney, she'll tell you luck plays a part too.
Being off key on a single note could be the difference between advancing to the next of four rounds that determines the state's best chorale singers. Then there's the potential of catching a bug that could weaken your voice or worse, knock you out of the competition all together.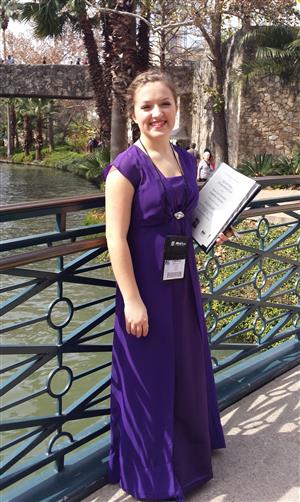 C
ourtney said she learned just how fortunate she had been all of these years at the Texas Music Educators Association conference in San Antonio this winter. In what should've been the culminating performance of her high school career, the four-time, all-state soprano lost her voice during rehearsals. She still sang with choir, but admitted it was hard not hearing her voice as part of the group.
"When I lose my voice and I can't sing, I feel like 'Oh no, there's a part of me that's missing!'" Courtney said. "It was still a really cool experience though because I got to participate in everything, learned some new things and made new friends. I just didn't get to, in a way, contribute at the end."
Her contributions to the Denton High choir program are undeniable. She wasn't just a member of the choir each of her four years; she also took part in ensembles, chambers, special performances and musical theatre, helping other students along the way.
"Courtney is one of the hardest working young ladies to come through this program. She does not know how to do things half way and this carries over into her work in the classroom and with her peers," Mr. Baker said. "She always makes everyone better."
She has been accepted into the School of Music at Brigham Young University – one of only nine students admitted for the Fall of 2017 – and plans on studying vocal performance, with the goal of becoming an opera singer. Courtney said she knows it's going to take a lot of hard work, but she's willing to do it to get the end result she wants.
"I've been very fortunate to get to work with so many great music teachers in Denton, but I guess the biggest thing I've learned is to see the end point," she said. "Knowing that whatever you're having to go through now is worth it because the end is going to be a lot better."