Return to Headlines
Support Building Approved in 2007 to be Named for Bill Giese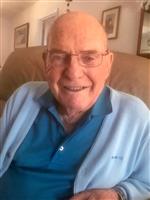 The Denton Independent School District Board of Trustees unanimously voted to name the district's new professional support services after Dr. JW "Bill" Giese, a former professor and longtime advocate of public education in Denton.
The Bill Giese Professional Support Services Building will be located on the corner of Elm and Third Streets in the City of Denton. It is scheduled to open in the Fall of 2018 and will house the district's business and administrative services division, special education department, data processing, ESL/bilingual and counseling/social services departments.
"It's an honor to have my name on a building, but really, my hope is that it spurs more people to get involved with public education and be productive citizens. It's important to stay informed and be involved in your own community because you can't just expect elected officials to get everything done on their own. And to get things done, you have to be educated – education is the key to progress, without it we can't continue to move forward," said Dr. Giese.
Dr. Giese has been heavily involved as a public servant in the Denton community for more than 50 years. He is a past board member of the Denton Central Appraisal District, Denton Housing Authority and Flow Health Care Foundation as well as a past president of the Denton Public Utility Board and Texas Municipal Power Agency.
Dr. Giese was elected to the district's board of trustees and has served on the district's last four citizens bond committees, including a stint as the co-chair in 2007.
"We've been very fortunate to have a local citizen like Bill Giese constantly out in forefront, advocating for the education of this district's students and support our staff to consistently meet their needs," said School Board President Mia Price. "It's fitting that a building that will house so many programs that support our students and staff will bear his name."
A graduate of the University of Washington, Dr. Giese earned his masters and doctoral degrees from the University of Illinois. He is a CPA in both Texas and Idaho and taught at his alma mater as well the University of Texas, Idaho State University before settling in for a 20-year career at the University of North Texas.
The three-story building will be structured to maximize occupant efficiency and energy usage, while also falling in line within the city's downtown area vision with expanded bicycle racks, pedestrian-friendly easements and a courtyard with an outdoor collaborative area.