Return to Headlines
Rodriguez Middle School Opens in the Town of Oak Point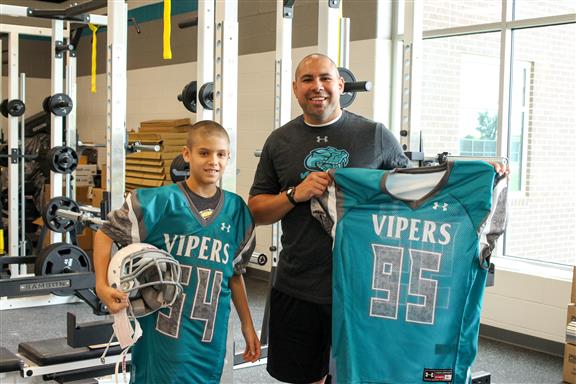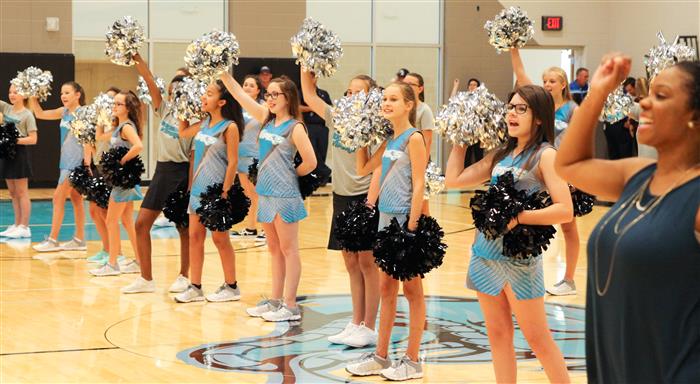 The sixth graders in Mr. Dickerson's sixth-grade writing class were busy organizing their notebooks and writing down the bell schedule. New classmates strolled in with freshly printed schedules as staff directed them to the core classrooms separated into learning pods.
"It wouldn't matter if this building were 20 years old or one-day old, our focus is to make sure each student feels excited to be at our campus and that someone at Rodriguez cares for each of them," said Renee Koontz, principal.
The 176,100-square foot state-of-the-art campus situated in the Town of Oak Point is Denton ISD's new 'prototype' design, which has elements the district plans to replicate in future buildings.
The building features 42 classrooms surrounded by open, collaborative learning spaces filled with natural light as well as courtyards for educational use. Built for energy efficiency, Rodriguez Middle School is supported by more than 300 geothermal wells and a self-sustaining retention pond.
During the school's first pep rally, in a gym that smelled like fresh paint, approximately 650 sixth, seventh and eighth graders sat elbow-to-elbow, learning their new rally cry. "Fangs Up! Fangs Out!"
The building named to honor longtime public education advocates, Dr. Rudy and Rosemary Rodriguez, is the district's eighth middle school and the newest member of the Braswell High attendance zone.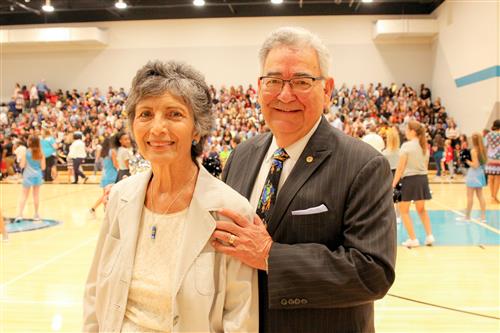 "We are so excited to see everyone this morning," Dr. Rudy Rodriguez, a former trustee who served as an education professor at both the University of North Texas and Texas Woman's University, told the students. "This is the start of something grand, and Rosemary and I are both here to support you at games, plays, concerts - you name it – there's tons of talent in this room and we want to celebrate it all with you."
Football coach B.J. Garcia proudly showed off the Vipers' new jerseys, adding that the school hosted their first football camps for seventh and eighth graders this summer in coordination with Braswell High.
"We're going to play a full schedule this year, and I anticipate we will be very competitive," said Coach Garcia.
Denton ISD is responsible for the education of more than 28,000 students across 17 different communities and has long prided itself on remaining true to its "small-town" feel despite unprecedented growth over the past decade. This large geographic footprint includes families from different ethnic, social and economic backgrounds – all of whom have an equal stake in their children's education.
"I was hired to be the principal of this school exactly 476 days ago, and since that time not a day has passed that I've not thought about this moment," said Ms. Koontz to the anxious crowd. "Welcome home, Vipers!"
The crowd went wild, and the adults sighed in relief.