Return to Headlines
Ryan and Braswell Present Fall Theatre Productions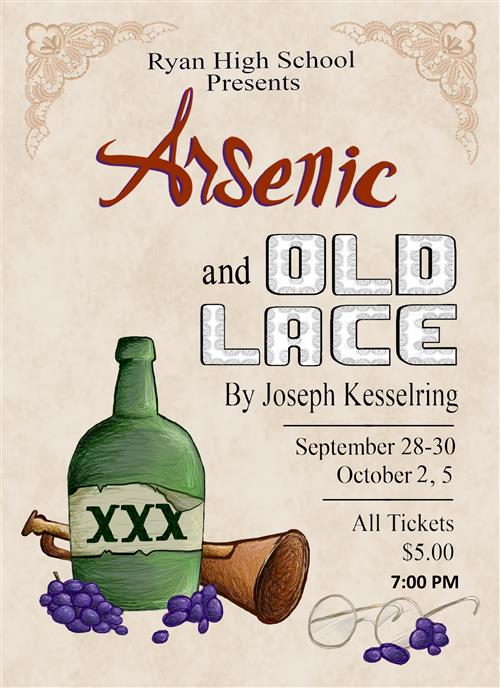 Ryan High School Drama to present Kesselring's Arsenic and Old Lace
The play is a farcical black comedy revolving around the Brewster family, descended from the Mayflower, but now composed of insane homicidal maniacs. The hero, Mortimer Brewster, is a drama critic who must deal with his crazy, homicidal family and local police in Brooklyn, NY, as he debates whether to go through with his recent promise to marry the woman he loves.
The production will run from Thursday, September 28 through Saturday, September 30. The show includes two performances the following week: Monday, October 2 and Thursday, October 5.
Tickets to the show are $5 and may be purchased at the door. Doors open at 6:30 p.m. and the show begins at 7 p.m. in the RHS Auditorium.
For more information, please contact Michael Thompson or Jeannene Abney at (940) 369-3119 or mthompson@dentonisd.org or jabney@dentonisd.org.
---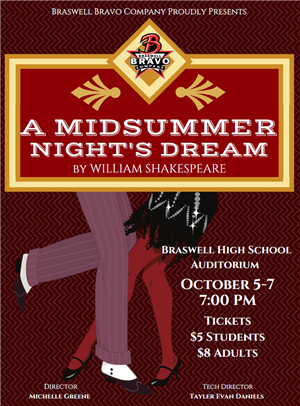 Braswell presents Shakespeare's A Midsummer Night's Dream
Braswell High School's Bravo Company will perform William Shakespeare's A Midsummer Night's Dream as they open their second season. The production is a 1920's twist on the classic beginning each evening at 7 p.m. and runs Thursday, October 5 through Saturday, October 7 on campus. This production is the company's first mainstage production in the new auditorium.
Tickets may be purchased at the door and cost $5 for students and $8 for adults. Patrons may purchase them online by visiting www.braswelltheatre.com.
Denton ISD employees receive one free ticket with their ID (purchased at on site at the ticket booth).
For group sales and more information, please contact the company's sponsor Michelle Greene by emailing mgreene@dentonisd.org.