Return to Headlines
Sixth Graders Experience First College Visit at UNT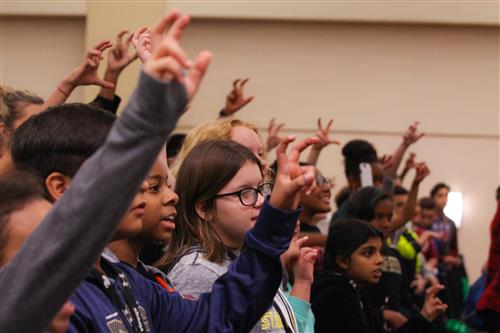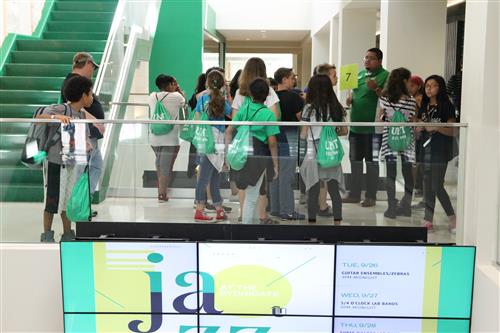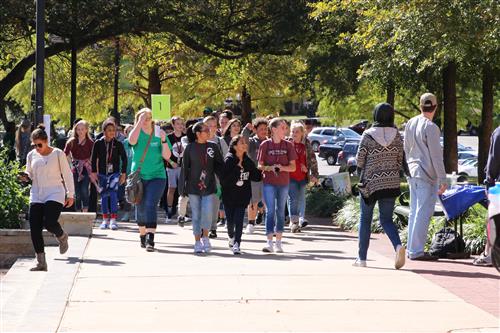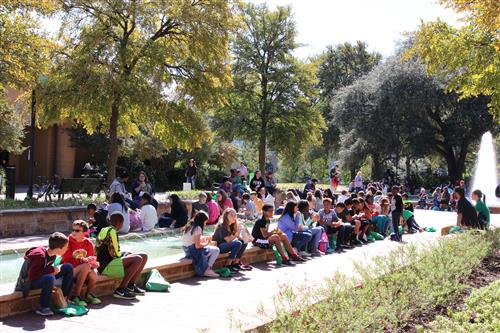 What started out as a field trip, a day away from traditional class, morphed into a thought provoking experience that had sixth graders thinking seriously about their futures.

As busses rolled up to The University of North Texas' Student Activities Center, buzz about the walking tour, lunch outside with friends and the professor's lecture topic spread through the groups of middle schoolers who were quickly being divided into groups of 20.
"College seems to be about a lot of walking, and lots of stairs," said Emily, a Strickland sixth-grader.

There were plenty of surprises for the majority of the 2,260 Denton Independent School District students who took part in UNT's Future Eagles program each Tuesday in October. Of the students touring, 970 or 43 percent, qualify for free and/or reduced lunch, a fact that is not lost on university staff members who volunteered to lead small tour groups.
"I grew up in little Mocksville, NC and never experienced anything like this growing up, especially as a middle school student," said Justin Barker, UNT's coordinator for parent programs and member of the orientation staff. "Giving these students something to envision for their future is so important, stuff like this seemed out of reach for me when I was their age."
A joint initiative between the university and Denton ISD, the Future Eagles program was designed as a way to get middle school students not just thinking about college, but experiencing it firsthand.
"I learned that the tests count a whole lot more toward your grade," said Austin, a Harpool sixth-grader. "But, after you work hard, you can hangout, get something to eat and play pool at the student center."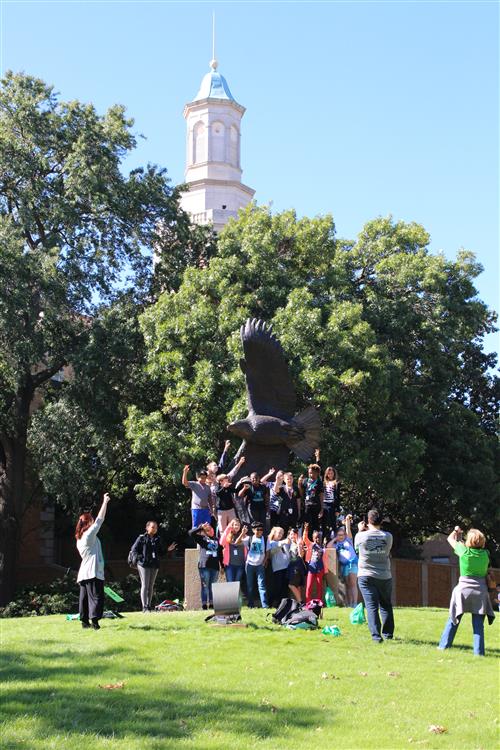 Each sixth-grader from all eight district middle schools took part in the event and the middle schoolers traversed across campus learning about UNT buildings, activities and campus life taking the same tour a high school senior would be afforded on an official college visit.

"It's always exciting to see the college experience through the eyes of 11- and 12-year olds and listen to what they have to say afterward," said Mario Zavala, director of communications and community relations for Denton ISD. "We're trying to replicate that same excitement that many freshmen have when they're on campus for the first time and we're proud to work with UNT on providing our students that experience."
Participating sixth-graders not only got to visit dorms and chat with actual resident assistants, they also got to sit in on lectures and have conversations with college professors. They asked questions to college students passing by on the campus greens and imagined themselves relaxing after class in the lazy river at the UNT Rec Center.

Tour guides and faculty answered questions ranging from the studious ("How easy is it to change your major?") to the personal ("What do you do if your roommate leaves their dirty clothes all over your dorm room?") and everything in between.
Though the groups tended to be larger than a traditional campus tour group, district staff and community volunteers joined the UNT students in making sure everyone felt like they were part of the group.
"I really enjoyed visiting the Rec Center," said Samuel, a sixth-grader at Crownover Middle School. "The professor also answered some personal finance questions for me, so it seems like this might be a possibility. "

Participating teachers, counselors and principals agreed that the Future Eagles program was a hit with the students and will pay dividends down the road. One overarching idea behind the program was that the sixth-graders would ask questions about what middle and high school classes will help them better prepare for college.

UNT did its part to ensure that many of the students would be back on campus sooner rather than later, too. Academic advisors rewarded participants with T-shirts, tickets to athletic events and the biggest prize of the day: $2,000 worth in scholarships. Four middle schoolers walked away with a $500 scholarship if the student enrolls at the university and becomes part of the Mean Green Class of 2029.

That future could likely include many of these same sixth-graders leading campus tours at universities in Austin, Lubbock, Waco and other college town in the United States. But it could also lead to them staying home, being successful in Denton and leading Future Eagles of their own.

"I liked that you get to choose your classes, and that means you'll probably make more friends who study the same things you do," said Jake, a sixth-grader at Harpool.
To view more images from the sixth grade field trips to UNT, please click here.