Return to Headlines
Denton High math teacher named a finalist for national award
Megan Gabriel, a math teacher at Denton High School, has been named a finalist for the 2018 Presidential Award for Excellence in Mathematics and Science Teaching (PAEMST).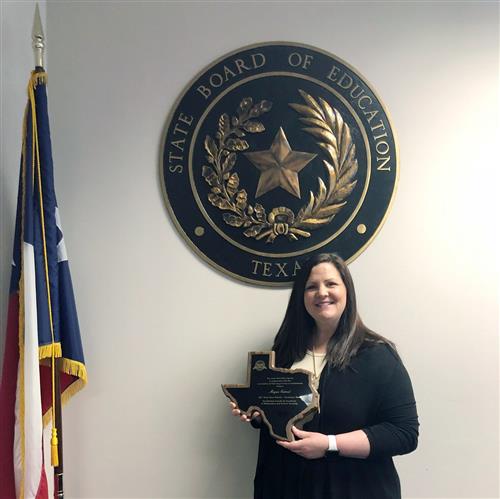 "I am so honored to be recognized as a Texas State Finalist for the Presidential Award," said Ms. Gabriel. "As a product of Denton ISD, I am proud to know I am making a difference in my community and am honored to represent the district in which I call home."
Ms. Gabriel is a Denton native and attended Ginnings Elementary, Strickland Middle School and Ryan High School.
Ms. Gabriel was the only teacher from a Denton County school to be recognized as a finalist. She has served the students at Denton High for seven of her 11 years of teaching mathematics. She currently teaches Pre-AP Calculus and Pre-AP Geometry.
A graduate of Texas Woman's University, she has returned to her alma mater and teaches undergraduate courses on the TWU campus.
The PAEMST award is the highest recognition a math or science teacher in the United States can receive for their exemplary work. The honor is bestowed by the National Science Foundation on behalf of the White House Office of Science and Technology Policy and annually recognizes a seventh- through 12th-grade teacher whose teaching methods are innovating and inspiring to students.
National award winners are selected during the summer after the current school year, with recipients receiving $10,000, a paid trip for two to Washington, D.C., a citation signed by the President of the United States and professional development opportunities.