Return to Headlines
Jeff Russell Named Director of Student, Campus Support Services
Mr. Jeff Russell, principal of Decatur High School, has been named Denton Independent School District's director of student and campus support services. Mr. Russell replaces Mr. Darrell Muncy who retired from the district in December following 31 years in education with the last 16 in Denton ISD. Mr. Russell will begin his duties on Monday, March 19.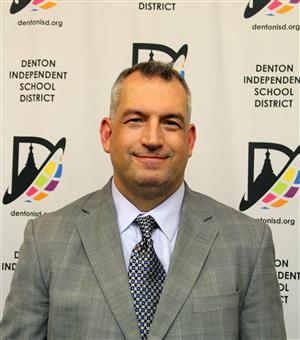 "Mr. Russell brings a vast amount of experience in administrative leadership that will benefit our campuses immediately," said Dr. Richard Valenta, deputy superintendent. "As a former principal, he understands what helps schools operate effectively, what students need to be engaged in the classroom and what keeps parents connected to their students, teachers and educational community. "
Mr. Russell brings 15 years of service as a campus principal to the district. As the current leader of Decatur High School, a Class 4A campus of 875 students in Wise County, he has a reputation for being collaborative and highly involved in the community.
In 2003, Mr. Russell moved to Birdville ISD where he served as principal of Smithfield Middle School for eight years and then Haltom Middle school for three.
"While I've enjoyed my time in Decatur, the opportunity to move to Denton and help mentor other school leaders was an opportunity too great for me to pass up," said Mr. Russell. "The impact my mentors have had on me and my life has been immeasurable, and I'm passionate about returning the favor."
He began his teaching career in special education in Lewisville ISD and Birdville ISD. He then moved to an administrative role as an assistant principal at Birdville High School.
Following 10 years of active service in the U.S. Marine Corps, Mr. Russell earned his bachelor's degree from The University of Texas at Arlington and master's degree from Texas Woman's University. He will complete his doctoral studies at Dallas Baptist University in May.
He and his wife Donna, an educator of 20 years, reside in Decatur but will relocate at the end of this school year. They have two sons, one in college and the other entering high school in the fall.