Denton Independent School District
Empowering Lifelong Learners
Return to Headlines
Blanton Student Performs in OAKE National Honor Choir
---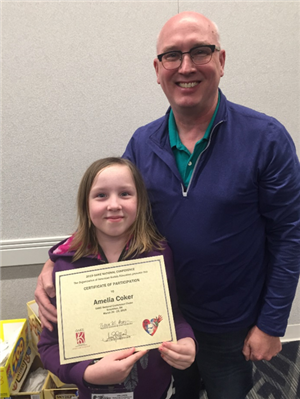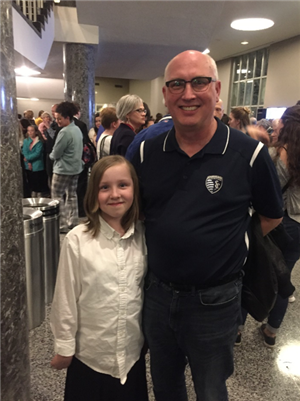 Blanton Elementary student Amelia Coker traveled to Columbus, Ohio in March to perform at the OAKE National Honor Children's Choir concert on Saturday March 23rd, 2019. Selected through an intense audition process, Amelia was the only elementary student in Denton ISD selected in the top honor of participating in the OAKE National Honor Children's Choir.

468 students from 184 cities representing 35 US states and one international school convened in Columbus as members of the 45th Organization of American Kodály Educators (OAKE) National Conference Choirs. These students rehearsed with nationally and internationally-recognized conductors Nyssa Brown, Julia Shaw, Andrea Solya, and Peter Erdei as part of the elite honor choirs. The experience culminated in a concert at the Mershon Auditorium on the campus of the Ohio State University.
Amelia and other selected students from around the nation performed pieces by G.F. Handel, Zoltán Kodály, and many other master composers. Additionally, she, along with ensemble members, sang the world premiere of a new choral work by American composer Douglas Beam.
OAKE is a national leader in the field of music education and teacher training whose mission is "to support music education of the highest quality, promote universal music literacy and lifelong music making, and preserve the musical heritage of the people of the United States of America through education, artistic performance, advocacy and research."
Dr. Jackie deMontmollin, Director of Fine Arts for Denton ISD commented "We are thrilled that Amelia earned this honor, and are so impressed by her dedication and hard work! We are proud she earned a place representing Denton ISD and Blanton Elementary School in the National Children's Honor Choir at the Organization of American Kodály Educators (OAKE) National Conference. Many thanks to her teacher, Mr. Nicolas Miranda, for nurturing her ability and for guiding Blanton Elementary students to high levels of musical skill!"
A recording of OAKE Children's Choir is available online through the OAKE website.
You're online. We're online. Let's connect.