Denton Independent School District
Empowering Lifelong Learners
Return to Headlines
Denton High's 2018 The Bronco Selected as Tops by Jostens
---
---
Denton High School's yearbook, The Bronco, has been recognized for design, photography and coverage excellence and featured in the 2019 Jostens Look Book, celebrating the best-of-the-best in yearbook design and coverage.
The Jostens Look Book features a collection of spreads and photos from outstanding yearbooks and their creative themes, cool covers, dazzling designs, relevant coverage, storytelling copy and action-packed photography. Along with design excellence, the annually published Look Book honors the important role well-crafted yearbooks play in helping schools chronicle the experiences, stories and achievements most relevant to students and that academic year.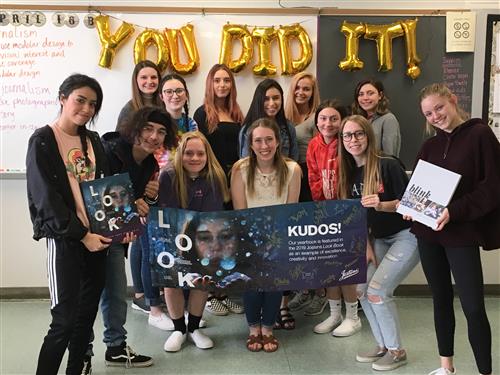 The 2018 Bronco yearbook was created by editors Alison Helms and Andrea Bridges, along with Hope Atkinson, Erica Bridges, Kyler Bullard, Riley Burke, Noah Cherry, Nate Eddowes, Jose Hernandez-Orta, Summer Lyons, Britney McVey, Everest Merki, Jillian Serment, Laney Smith, and Angel Valdez, under the direction of yearbook adviser Rebecka Frey. This is the third consecutive year The Bronco received this honor, and one of only two Denton ISD schools to be recognized this year. The Bronco has been featured in 12 of the 17 volumes of the Look Book.
"The yearbook staff has really focused on telling the story of the student body, and the year," said Ms. Frey. "They really focus on including as many students as possible, while still including the events, activities and organizations for historical reference."
The Bronco is one of 385 yearbooks selected from over 2000 entries. The 2019 panel of judges, comprised of nationally recognized scholastic journalism professionals and award-winning yearbook advisers, selected the best examples of yearbook spreads and covers to make up the Look Book, which be sent to 13,000 high schools throughout the United States, Canada and abroad.
"The Jostens Look Book showcases the hard work and dedication of students who tell the story of the school year through photos and words. It is their collaboration and communication, as well as creative thinking in challenging situations, that results in the fine designs shown in this book," said Sara Sausker, Senior Manager of Customer Experience. "We are very proud to celebrate the ability of this country's future leaders and communicators by showcasing their sophisticated designs and photography."
You're online. We're online. Let's connect.