Union Park Elementary School
Empowering Lifelong Learners
Return to Headlines
Claire Springer named principal at Sandbrock Ranch Elementary
---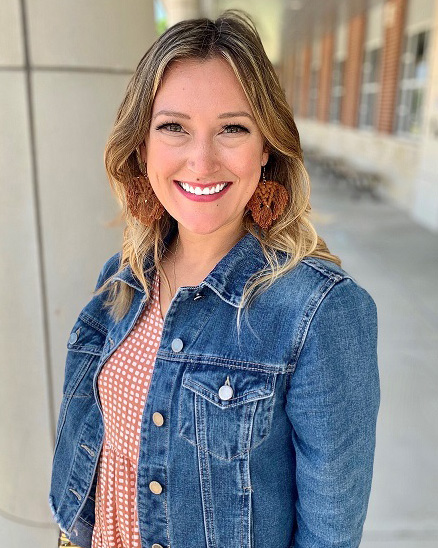 Claire Springer, assistant principal of Savannah Elementary, has been named the new principal at Sandbrock Ranch Elementary, the district's newest elementary school scheduled to open in the fall of 2022. Sandbrock Ranch Elementary is Denton ISD's 25th elementary school located on the eastern edge of the district nestled in the development of the same name.
"I am honored and humbled to be named the new principal of Sandbrock Ranch Elementary School," said Ms. Springer. "As a product of Denton ISD, I am committed to uphold the values of our school district in the community of Sandbrock Ranch. I look forward to building a community of learners focused on all students at high levels. I am thrilled to meet the families and students of Sandbrock Ranch and to begin this journey of learning together."
Ms. Springer will begin serving her role as principal at Sandbrock Ranch Elementary on January 1, 2022.
Ms. Springer began her teaching career as a third-grade teacher in Frisco ISD in 2011. She joined Denton ISD in 2015 as assistant principal at Savannah Elementary.
"Ms. Springer understands the impact of teacher collaboration and the outcomes that can impact student learning," said Dr. Jeff Russell, area superintendent. "And her hometown roots will be a key connection for our newest residents who live in the fastest growing area of our district."
Ms. Springer, a 2007 graduate of Denton High School, earned her bachelor's degree from Oklahoma State University and her master's degree in educational administration from Texas A&M University-Commerce. Ms. Springer currently resides in Denton, raising two young daughters.
Sandbrock Ranch is a master-planned community in Aubrey situated on 800 acres, directly off FM 1385, near the district's border with Prosper. The school, built to serve 750 students, will relieve rapid growth and is the seventh elementary school serving students in the Braswell High zone.
The district recently broke ground in January with completion set for an opening in the Fall of 2022. This campus is part of the Capital Improvement Plan approved by district voters in 2018.
You're online. We're online. Let's connect.