McMath Middle School
Empowering Lifelong Learners
Return to Headlines
Denton ISD Honors 2022 Jostens Teachers of the Year
---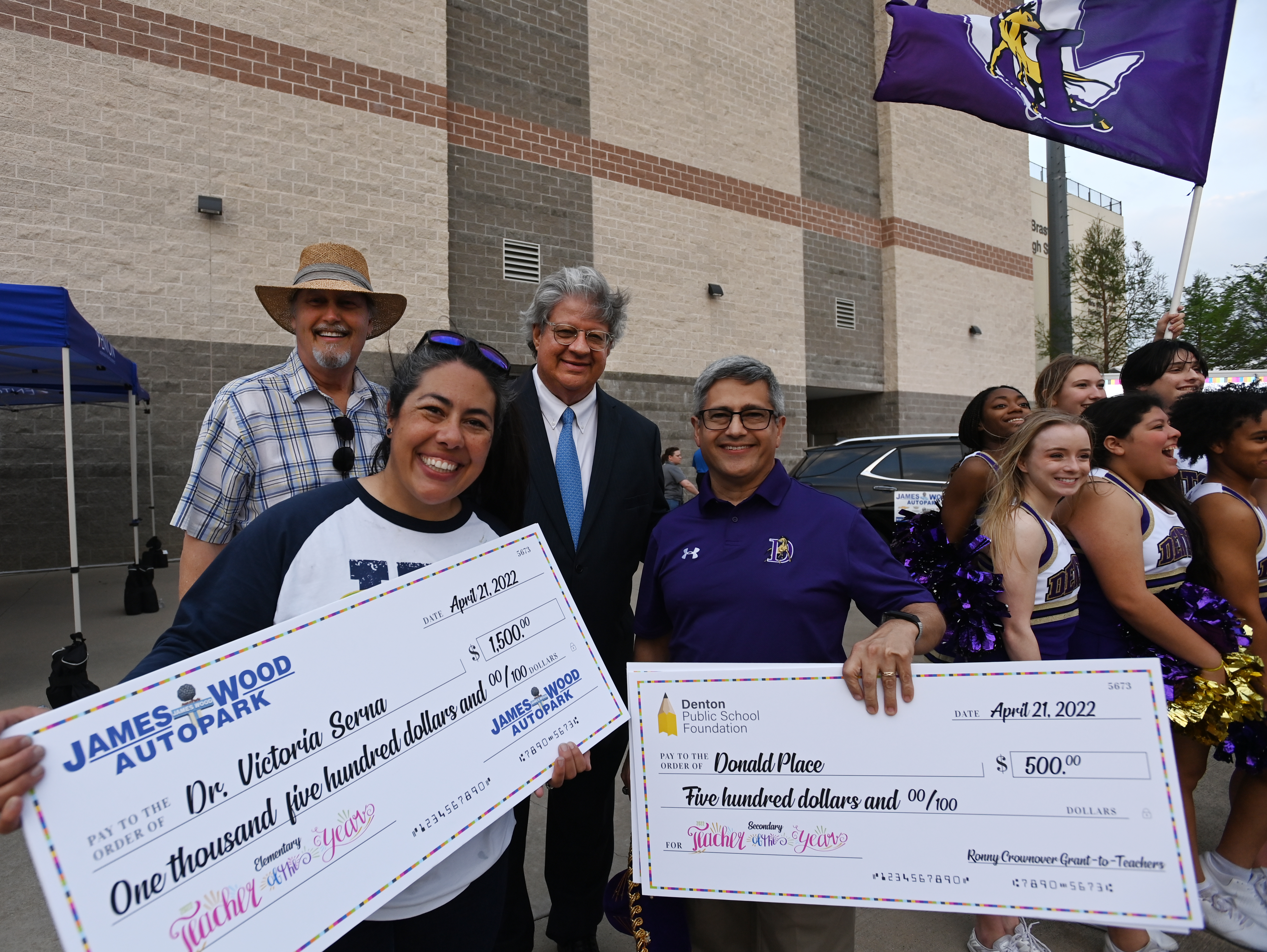 Denton ISD recognized the 2022 Jostens Teachers of the Year with a "Drive-Thru" parade at C.H. Collins Athletic Complex on Thursday, April 21. This marks the third year in a row the event was held in this parade-style, celebratory format.

Cheered on by their colleagues and community members, each campus winner worked through the parade route in the athletic facility parking lot. The event's main sponsor, Jostens, presented each campus winner with a custom ring.

This year's Denton ISD Elementary Teacher of the Year is Dr. Victoria Serna, a fifth-grade teacher at Union Park Elementary. She was selected from 25 elementary campus nominees.

Dr. Serna is finishing her third year at Union Park Elementary and her sixth year with the district. She is on her second stint with Denton ISD and has fourteen years of classroom experience overall. Dr. Serna brings a wealth of experiences to her students by incorporating formal and informal science instruction to create a space where all her students feel welcomed and included.

"It's such a huge honor and it's exciting because of what this represents for our team and our school," said Dr. Serna. "This event makes me feel like all of us are 'seen' and this helps give our students a voice too which is why we all do what we do. We get celebrated and we get to celebrate all of our village too."

This year's Secondary Teacher of the Year is Donald Place, Spanish teacher at Denton High School.

Mr. Place has taught Spanish at Denton High for the past twenty years. He is also National Honor Society Co-Advisor, Table Tennis Club Sponsor, and League of United Latin American Citizens (LULAC) Club Sponsor. In addition to those responsibilities, he also serves as the AP Testing Table Leader for AP Spanish Language tests given by the educational testing service.
An immigrant to the United States from Nicaragua as a fifteen-year-old, Mr. Place relies on those difficult cultural, psychological, and emotional experiences of adapting to a new culture during his teen years to shape his teaching philosophy today.

"This is such an honor, I work with such an amazing staff in our school," said Mr. Place. "To be nominated out of 150 excellent teachers at Denton High is just amazing. I'm on cloud nine right now."
View photos from the Teacher of the Year event on the Denton ISD Flickr.
You're online. We're online. Let's connect.