Strickland Middle School
Empowering Lifelong Learners
Return to Headlines
Cornelius Anderson Named Principal of Ginnings Elementary
---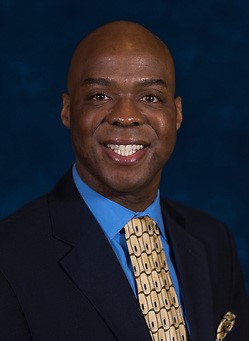 Mr. Cornelius Anderson, principal of Wesley Elementary School in Houston ISD, has been named the new principal of Ginnings Elementary. He replaces Marci Auchter, who is leaving the district to take a position with Prosper ISD to be closer to home.
"I am truly honored to be back in the district that has had a lasting impact on me," said Mr. Anderson. "I look forward to serving the Ginnings community and continuing the remarkable work that has been established."
Mr. Anderson brings eight years of school administrator experience to his new role and more than 17 years of experience in public education. He previously served in the district as Dean of Instruction at Rivera Elementary and as an assistant principal at Cross Oaks Elementary, before leaving to take the reigns as principal at Stafford Intermediate School in Stafford ISD.
Mr. Anderson began his teaching career with Garland ISD, serving in their special education department, before taking a position as a kindergarten teacher at Pecan Creek Elementary. He was named the Stafford ISD Administrator of the Year in 2015.
"Mr. Anderson will be a tremendous asset for our teachers and staff at Ginnings as he has a passion for teaching and learning," said Dr. Gwen Perkins, area superintendent for academic programs. "Our students and families will also benefit from his love for working with people and wanting everyone to succeed."
Prior to his work in public education, Mr. Anderson served as a manager and trainer for Chick-fil-A where he conducted training and development for employees as well as managed restaurant duties.
He is a Co-Chair of the Principal and Aspiring Principal Institute for the Texas Association of Black School Educators and is active in the Texas Elementary Principals and Supervisors Association as well as the Texas Association of School Administrators.
Mr. Anderson is a graduate of Texas Woman's University and received his master's degree in Educational Leadership from American College of Education.
You're online. We're online. Let's connect.