Strickland Middle School
Empowering Lifelong Learners
Return to Headlines
Plans Unveiled for New Denton High School
---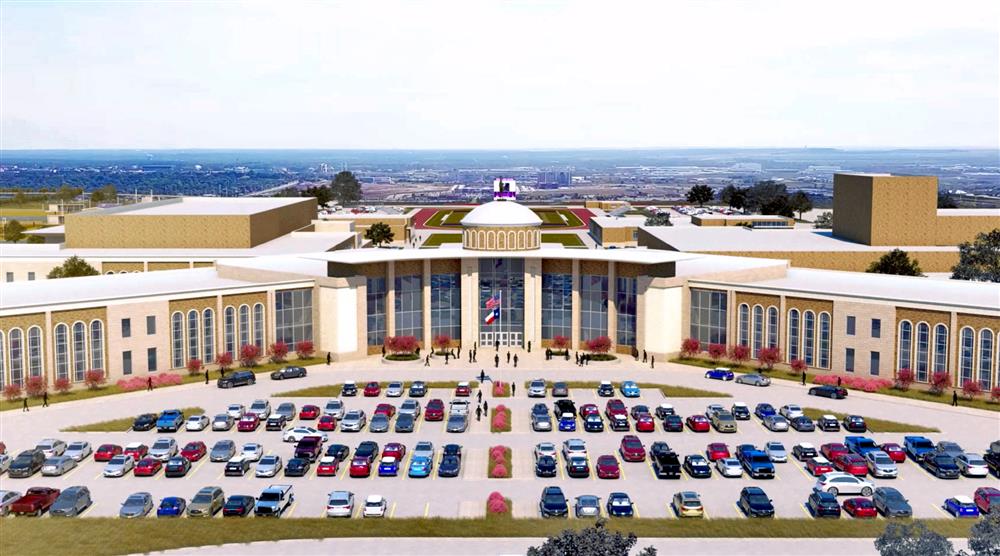 At the November 13 school board meeting, Sloan Harris, partner at VLK Architects, presented plans for the new Denton High School. The new campus will be located on 152 acres of land the district purchased on Bonnie Brae Street. The campus is one of the key projects voters approved in May 2018 as part of a series of Capital Improvement Plans that were part of the more than $750 million bond project targeting the district's older facilities.
North Star Builders Group will begin construction in June 2019 on the facility. The new campus will serve 2,400 students and is estimated to open in the Fall of 2022.
The project will build upon and incorporate the many strong traditions of Denton High School while creating new learning and teaching opportunities.
­­­
"The new Denton High School design embraces several 21st century learning philosophies that we encourage in Denton ISD including critical-thinking, creativity, and communication. Students will find modern learning spaces that are replete with technology that supports personalized learning yet allows for student-to-student collaboration," said Dr. Mike Mattingly, assistant superintendent of curriculum and instruction. "Additionally, the school includes an International Baccalaureate Learning Alcove that will serve as the headquarters for students, teachers, and parents for all matters related to IB."
Through a series of meetings that began in July, a team of students, parents and staff, worked together to create the conceptual framework for the schematic design. During this process, participants discussed what they would want the exterior and interior of the school to look like as well as the type and scale of spaces.
"VLK has led us through a process that has enabled us to design a learning environment as unique as the Denton High community," said Joel Hays, Denton High principal and 1984 Denton High graduate. "Like our six campuses prior, this campus will be the focal point of education in our community for generations."
The preliminary design shows the building's main entrance facing north on a divided four lane street, an extension of Riney Road. The two-story, glass arched entry is capped by a "bell tower" featuring a Denton Bronco atop a dome, a nod one of the school's six previous campuses, more specifically the 1908 campus.
The focal point of the facility is a "Ring of Legacy" which will feature a time lined history of the 134-year old campus, and all academic areas will 'spoke' off of the circular center. The core-curricular areas will be filled with spaces to encourage collaborative learning with flexible seating.
The fine arts area will feature a full-scale 800 seat theater complete with fly-loft, black box theater/classroom, band and orchestra halls complete with individual practice rooms. All fine arts activities will be through a separate entrance on the west side of the campus.
All athletic events will take place on outdoor practice and competition fields on the south and eastern portions of the campus. Adjacent to each area, each team and group will have a changing area/locker room facility.
Per the district's recent safety initiative, the school will have upgrades with a secured safe entry and an area that will function as a storm shelter.
You're online. We're online. Let's connect.