Evers Park Elementary School
Empowering Lifelong Learners
Return to Headlines
Board of Trustees Recognize Denton ISD Graduate Who Finished as Runner-Up on Hit Television Series
---
During the Sept. 28 meeting, the Board of Trustees recognized Megan Gill. Chef Gill, a 2014 graduate of Ryan High School, recently participated in the finale episode of "Hell's Kitchen: Young Guns" hosted by celebrity Chef Gordon Ramsay.
"I grew up in this district and this is really awesome and I just want to say thank you for this recognition and thank you to Chef (Paul Niles)," said Megan Gill. "Chef, it was in your class at the ATC that I discovered that I really love cooking and I'm very competitive and that's where I truly discovered my love for both cooking and competition in your class."
In the winner-takes-all style elimination cooking show, Chef Gill outlasted 16 contestants through 15 episodes and 16 high-pressure eliminations to make it to the final two. Although she finished as the show's runner-up to Trent Garvey, an executive chef from Missouri, Chef Gill won seven challenges during her season and performed admirably, creating a very strong following nationally and online.
Chef Gill currently serves as the lead line cook at Brook Hollow Country Club in Dallas. Her performance on the hit television show had many mouths watering. Gill prepared dishes like salmon with fennel and orange; chipotle sweet potato puree topped with a seared filet and barbecue-rubbed shrimp with peach chutney.
"I'm very proud of her leadership in the kitchen and of course, I believe she should've won it all," said Chef Paul Niles, Megan's culinary arts instructor at the LaGrone Advanced Technology Complex. "I loved watching her share her talents and heart for cooking with the world."
While Chef Gill may have fallen one spot short of her goal, the Denton ISD Board of Trustees honored and celebrated her persistence and representation of the Denton ISD community through an amazing performance.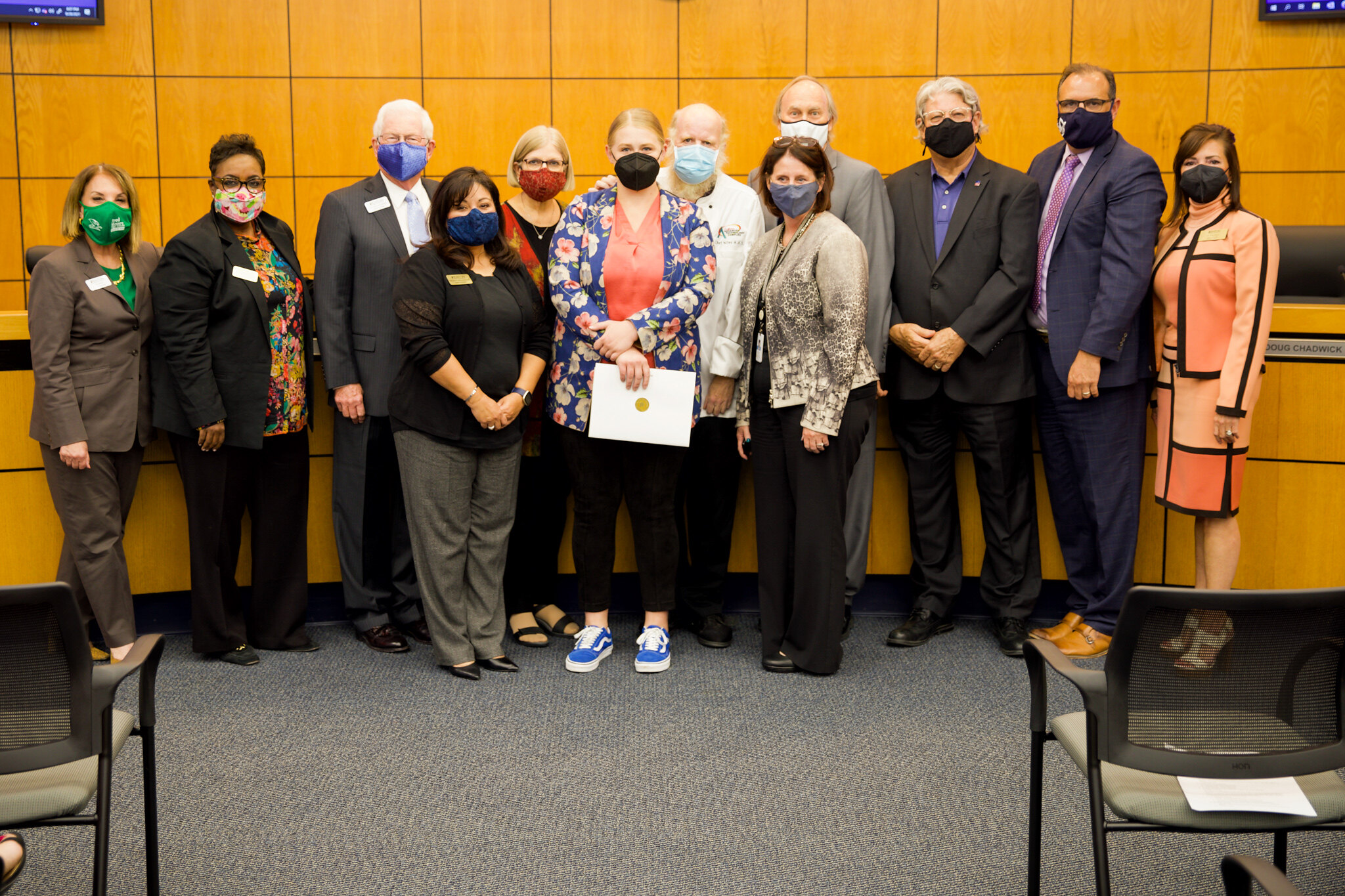 You're online. We're online. Let's connect.