Pecan Creek Elementary School
Empowering Lifelong Learners
Return to Headlines
Shannon Wickstrom wins Texas Elementary School Counselor of the Year Award
---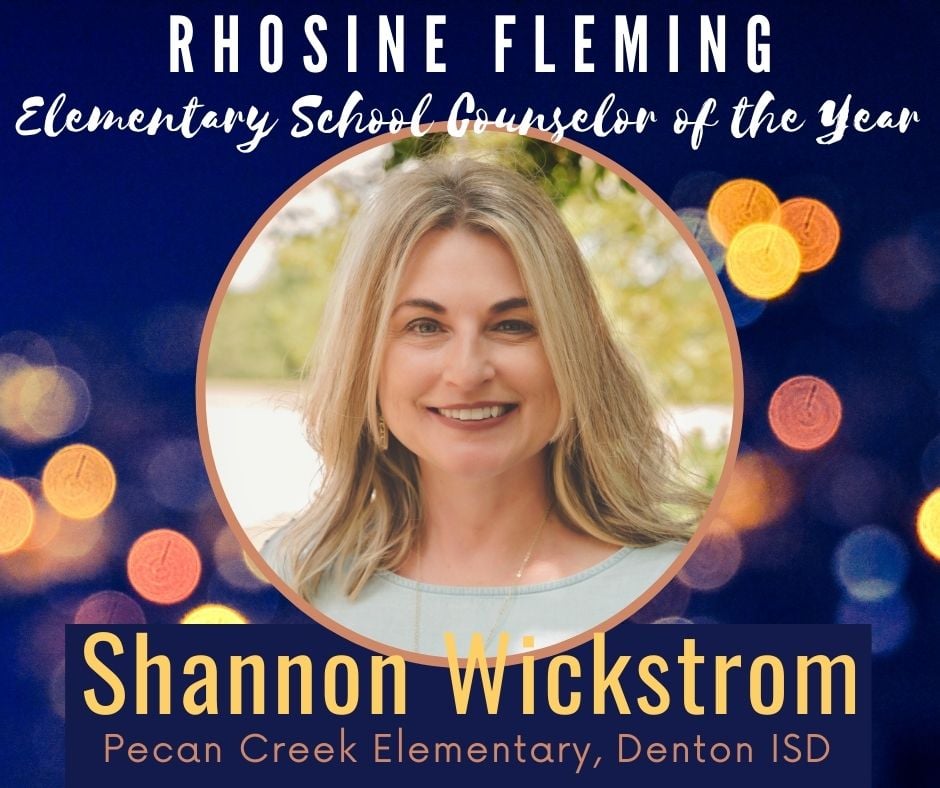 Pecan Creek Elementary school counselor, Shannon Wickstrom, was recently awarded The Rhosine Fleming Award as Elementary School Counselor of the Year by the Texas School Counselor Association (TSCA). Ms. Wickstrom, along with eight other award winners in the state of Texas, was recognized virtually at the annual TSCA Professional School Counselor Conference in February.

An educator since 2002, Ms. Wickstrom joined the Denton ISD family in 2015 as a member of the Pecan Creek Elementary staff. During her time with the district, Ms. Wickstrom has consistently demonstrated an extraordinary commitment to her staff mates, colleagues, and her community. She embodies the aspects of her role as the counselor at Pecan Creek Elementary both professionally and personally.

"When I first met Shannon as a new principal, she immediately gave me support and a sense of belonging to the Pecan Creek Elementary family," said Amanda Bomar, principal. "During one of the toughest years for public school, Shannon has been a rock for our campus. Her support and guidance for parents, students, and staff has helped us to navigate one of the most difficult unknown territories. She is at the center of our success and most importantly, she is the heart of our campus."

Ms. Wickstrom provides exceptional academic, social, and emotional support to all the stakeholders of Pecan Creek. She has diligently developed a school counseling program that targets the specific needs of her population. Her guidance calendar aligns with the district-identified "Essential 8" and mandated topics, but she has taken it one step further by creating campus-wide experiences with each topic. For example, in the month of September, she organized a campus-wide "Bucket Fillers" activity.

Ms. Wickstrom's relationships with the staff, her colleagues and the community are unique and far-reaching. When the school had to close its doors due to the pandemic in March of 2020, Ms. Wickstrom wasted no time in learning how to virtually connect with her population. She developed a bitmoji office for her parents and students to engage with.
She consistently discovered and shared new and innovative resources with her colleagues. To remain connected with the Elementary Counseling Team she had each counselor send her a video of them participating in their favorite self-care activity during COVID. She put this together and sent this out to the team as a reminder of how we carry each other through difficult times.
You're online. We're online. Let's connect.