Savannah Elementary School
Empowering Lifelong Learners
Return to Headlines
District Partners Join Together, Dedicate Mini-Pitch at Navo Middle School
---
Three prominent Denton ISD district partners were all recently on hand to unveil a new mini-pitch at Navo Middle School. The FC Dallas Foundation, CoServ, and Globe Life worked together to create this innovative field for students to enjoy.
"The intrinsic value in creating this mini-pitch here at Navo Middle School can not be understated. I'm a true believer in the educational benefits of sports and soccer specifically with what it provides for our youth," said Jimmy Smith, FC Dallas Chief Operating Officer. "We recognize that not every player is going to be able to make it professionally but the benefits of playing sports and having that teamwork dynamic, working through challenges, setting goals, staying committed to something bigger than yourself, and doing things the right way are an important foundation for success."
The pitch is part of the FC Dallas Foundation's commitment to promoting a healthy, active lifestyle for youth and communities in North Texas by building safe places for them to play soccer.
"To be able to partner with Denton ISD and help make this opportunity come to life for the students at Navo Middle School and to give these kids a hands-on opportunity to be a part of something valuable to them, and that helps them focus on living a healthy and active lifestyle is what it's all about for us and those are the types of partnerships we want to continue to grow and cultivate," said Jennifer Haworth, Globe Life Executive Vice-President, and Chief Marketing Officer.
The mini-pitch project, valued at more than $40,000 and underwritten by the local partners, converted an existing tennis court to a futsal court using a recyclable, synthetic product. The self-draining surface is low maintenance, eco-friendly, and allows for a safe place to play indoor soccer outside when fields are too wet or too dry.
FC Dallas is no stranger to the mini-pitch concept. This latest one at Navo Middle School is the second pitch dedicated by FC Dallas in Denton ISD, joining the one created at Strickland Middle School in 2017 and their ninth venture overall.
"Our company has a proven track record of engagement and supporting our local communities, and this is just one example of that," said Mario Zavala, CoServ Manager of Communications and Brand Engagement. "This is the second mini-pitch project for CoServ to be involved with here in Denton ISD and fourth overall in Denton County. It's important to find different ways to give back, so to partner with FC Dallas on this mini-pitch project in particular means a lot."
Students from Navo Middle School's GOAL Program were in attendance during the ceremony. GOAL, Guys & Girls Operating As Leaders, is an after-school soccer program staffed by district teachers who volunteer their time after school.
The program nurtures leadership qualities among second language learners and at-risk students through mental, emotional, and physical wellness in a high-trust environment. Currently, 400 Denton ISD students participate in the GOAL program, including 35 at Navo Middle School, on five Denton ISD middle schools and nine Denton ISD elementary campuses.
"We're extremely excited to have FC Dallas invest in our students and community in the form of this mini-pitch," said Dr. Jamie Wilson, superintendent of schools. "The support they've provided us over the years has helped many of our students in GOAL find another extracurricular outlet to connect with their school and refocus on their studies."
View more pictures from the event on Denton ISD's Flickr.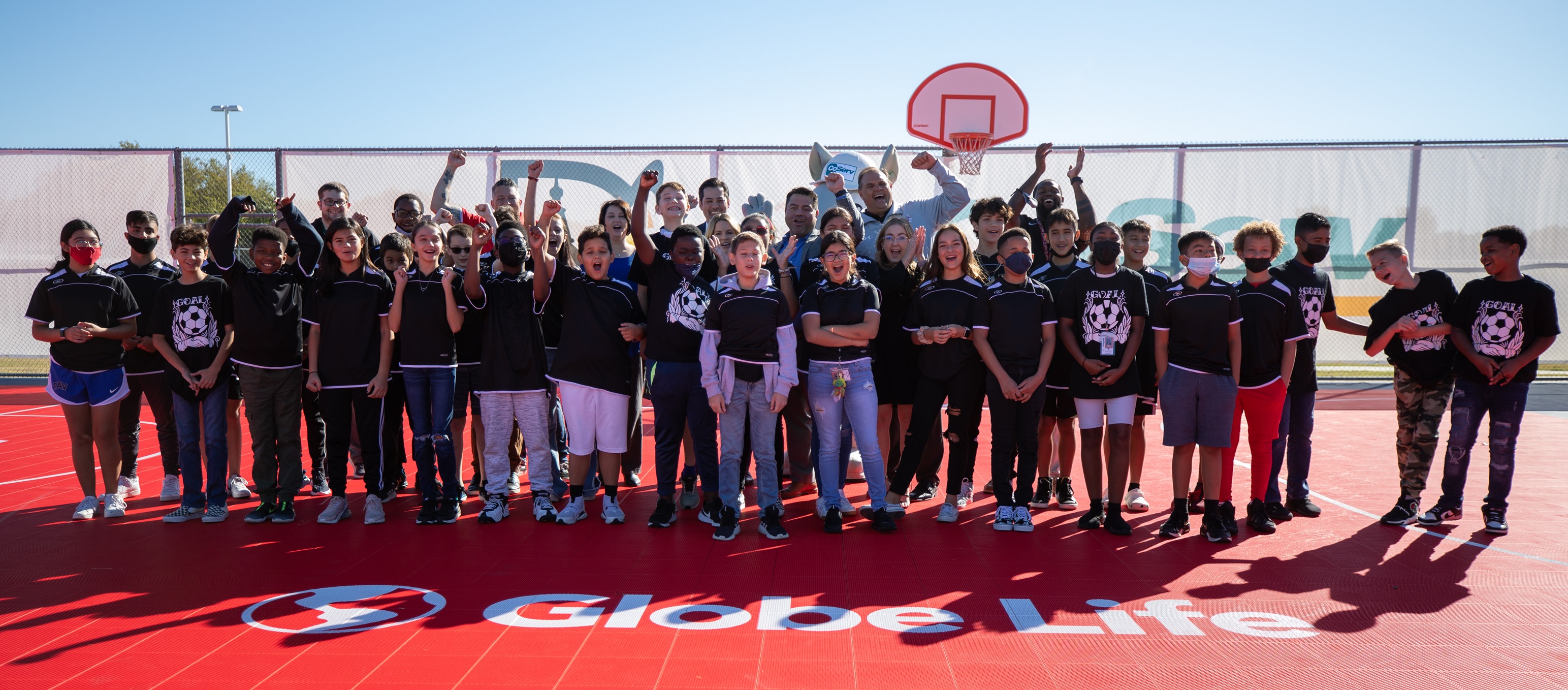 You're online. We're online. Let's connect.