Blanton Elementary School
Empowering Lifelong Learners
Return to Headlines
Denton ISD honors 2021 Jostens Teachers of the Year
---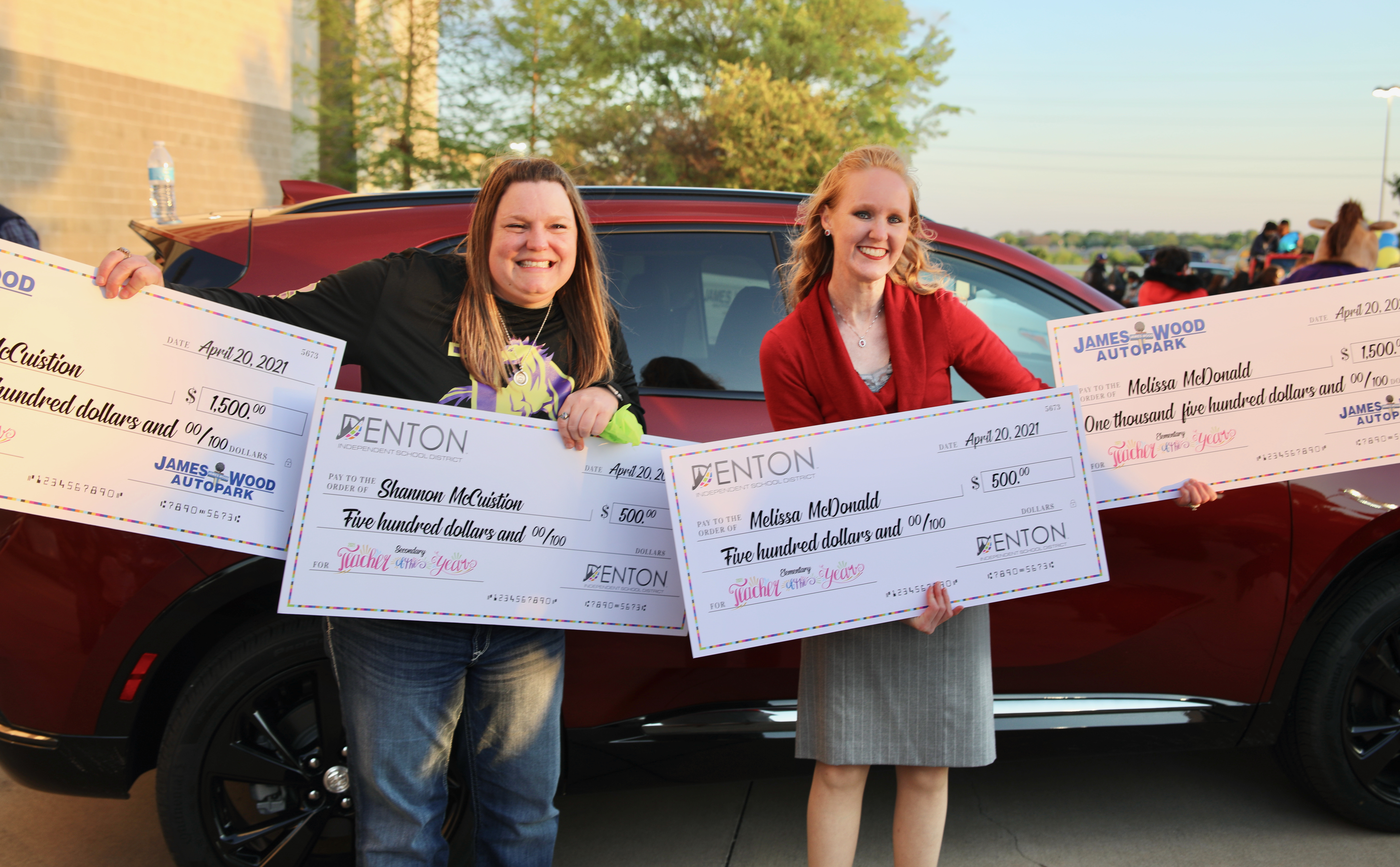 In what's quickly becoming a tradition, Denton ISD recognized the 2021 Jostens Teachers of the Year with a "Drive-Thru" parade at C.H. Collins Athletic Complex on Tuesday, April 20. This marks the second year in a row the event was held in this socially distant manner.

Cheered on by their colleagues and community members, each campus winner worked through the parade route in the complex parking lot. The event's main sponsor, Jostens, presented each campus winner with a custom ring.

This year's Denton ISD Elementary Teacher of the Year is Melissa McDonald, a kindergarten teacher at Blanton Elementary. She was selected from 23 elementary campus nominees.

Ms. McDonald is in her 20th year in the teaching profession, serving the last 13 years as kindergarten teacher at Blanton Elementary. Ms. McDonald joined Denton ISD as a substitute teacher in 2004. She serves on the math curriculum writing team, and she has worked to help host her campus' STEAM night. Also, she was recently honored for her talents in teaching reading literacy. Ms. McDonald, who is fluent in sign language, often volunteers to translate numerous school, community and church events.

"We work so hard and it is such a blessing," said Ms. McDonald. "To be out here with all of these great educators who just love kids and pour their heart and soul into these kids every day is such a blessing. And to be able to represent Blanton and DISD is just such a huge blessing."

This year's Secondary Teacher of the Year is Shannon McCuistion, agriculture science teacher at Denton High School.

Ms. McCuistion is completing her 11th year in education, serving the past three years as the agriculture science teacher at Denton High School. Ms. McCuistion works tirelessly to help her students see the gifts they possess and to reach their full potential. Ms. McCuistion has known since the age of 15 that she wanted to be an agriculture science teacher and she shows her students her passion every day by creating a positive atmosphere in her classroom and engaging her students with real and meaningful moments as often as possible.

"It's incredible, this is a once in a lifetime opportunity that I'll never get to experience again," said Ms. McCuistion. "I have learned a lot and I've got a great time behind me, a great boss, a great administration and I'm just so happy to be here."

Each Denton ISD Elementary and secondary school nominated one educator for Teacher of the Year. Members of the district's Teachers Communication Committee (TCC) reviewed the applications of the 38 campus winners and selected one elementary and one secondary teacher to advance to the Region XI Teacher of the Year Competition.

Local memorabilia manufacturer Jostens was the title sponsor for this year's Teacher of the Year event. Other local business contributors who provided gifts for the event included James Wood AutoPark, DATCU, Access Bank, Greenhouse Restaurant, Groggy Dog, Best Western Premier Crown Chase Inn & Suites, Sonic, HTea0, DCTA, Chiloso, RBFCU, T-Mobile, Texas Health, Independent Financial, and First Pension Services.

District-winning elementary and secondary teachers of the year received their choice of the use of a James Wood AutoPark vehicle for the summer or a check worth $1,500. Best Western Crown Chase Inn & Suites presented each district winner a voucher for a Stay-Cation.


Click here to view photos from the 2021 Teacher of the Year Celebration.
You're online. We're online. Let's connect.